Rasta Applauded For Impressive Painting Of The Late King
Rasta Applauded For Impressive Painting Of The Late King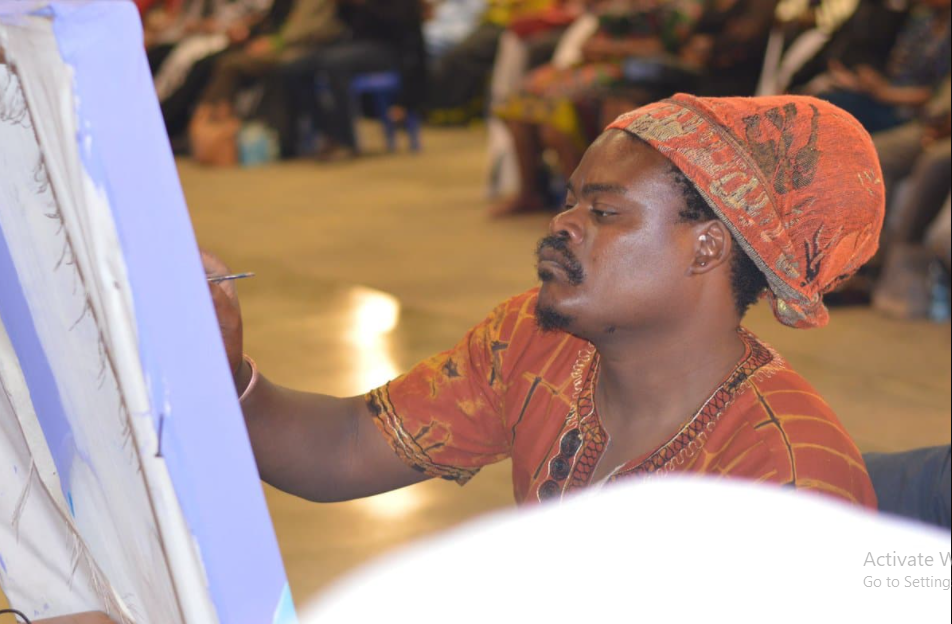 Today, the masses have gathered at KwaKhethomthandayo royal palace in Nongoma, to pay their last respects to the late Zulu King Goodwill Zwelithini. Since news of his passing broke, Lebani Sirenje, famously known as Rasta, was warned to not even paint the King as he would be severely dealt with. Some even advised him to throw his paint brushes away.
This is because the painter is known for botching a number of his paintings and Mzansi felt as though he is being disrespectful towards his subjects. The last person people want disrespected by the painter was the late King, so they made sure to send a message to him.
"There were people who were threatening me in a way that I was scared to even come to KZN. I managed to say 'No'. This is what I do, this is what I love, how I celebrate the legend who has passed on, so I was brave enough to come here today," he told News24.
Without fear, Rasta proved everyone wrong and produced his best paintings thus far and even got major media coverage at the ceremony. He even travelled all the way from Johanesburg to KwaZulu-Natal to showcase his paintings and pay his last respects.
Traveled all the way from Joburg to Nongoma KZN to pay my last respects to the King#RIPKingZwelithini pic.twitter.com/CEJ5kRqiLV

— Rasta The Artist (@RastaArtist) March 18, 2021
After seeing his work, many gave the Zimbabwean born painter a standing ovation and even made jokes about how he only paints people of high ranking properly.
He told eNCA that people often sabotage him if he posts on social media, saying they often photoshop the paintings to make them look as bad as they want them to be. But he gained the courage to go Live and showcase his work without first posting anything on social media.
"People were criticizing me before they saw my work. Usually I post my work on social media. So for today I thought let me go Live here at KwaNongoma and present my portraits with me. Because with posting, people would take my work and photoshop it."
WATCH: Popular artist Lebani Sirenje aka Rasta has painted two pictures of the late #KingGoodwillZwelithini – he says he was threatened before coming to KZN. @News24 (@kaveels) pic.twitter.com/EYXH8aJWxk

— Team News24 (@TeamNews24) March 18, 2021
Painter Ennock defended Rasta and said art is not necessarily making perfect portraits, but it is a way of expressing ones' self, "One of the artist I admire in SA is Rasta. As an artist my self he inspires me and one day I would would really love to collaborate with him. I believe he is one talent artist and we a blessed to have him. ART IS NOT PERFECT PORTRAITS, BUT HOW WE EXPRESS OURSELVE ~ Ennock M Art"
People were very impressed on social media and this is how they reacted:
"Rasta is a perception artist, he draws you as he sees you.
"One thing about Rasta…He will draw you according how much respect he has for you…How he feels about you is expressed in his paintings.
"No painter has ever gotten media attention like Rasta. Not sure if the dude is somewhat genius but the odds are always with him. Twitter approved him today,"
One of the artist I admire in SA is Rasta. As an artist my self he inspires me and one day I would would really love to collaborate with him. I believe he is one talent artist and we a blessed to have him.

ART IS NOT PERFECT PORTRAITS, BUT HOW WE EXPRESS OURSELVE ~ Ennock M Art pic.twitter.com/mQLqsG9I4W

— #Ennockinbelgium (@ennockmartZA) March 18, 2021