ProVerb sets the record straight
ProVerb sets the record straight
ProVerb might not be giving fans any more music after a long hiatus, as he claimed he's offering people more than songs. The TV personality opened about his offerings after a fan pleaded that he release a song. Grootman please do 1 song… Really enjoyed your music, especially writers blog," says the fan.
In response, the rapper mentioned music projects released years ago; he further explained that he's indirectly putting out songs by hosting one of the biggest music show in SA, Idols.
ProVerb also added that he's one of the board member of SAMRO, SA Music Rights Organisation, hence there's no need to enter the studio to sing.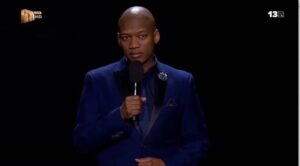 "One song? Try 5 albums, 16 songs each, a mixtape, a DVD, countless collabs and 20 years of my life. Now I produce a show that gives others a platform to make all the songs they want and line their pockets with 1 million rand cash every season and serve on the board of an organisation that services the entire South African industry. How many songs is that?" he wrote.