Priddy Ugly calls out Cassper Nyovest
Priddy Ugly calls out Cassper Nyovest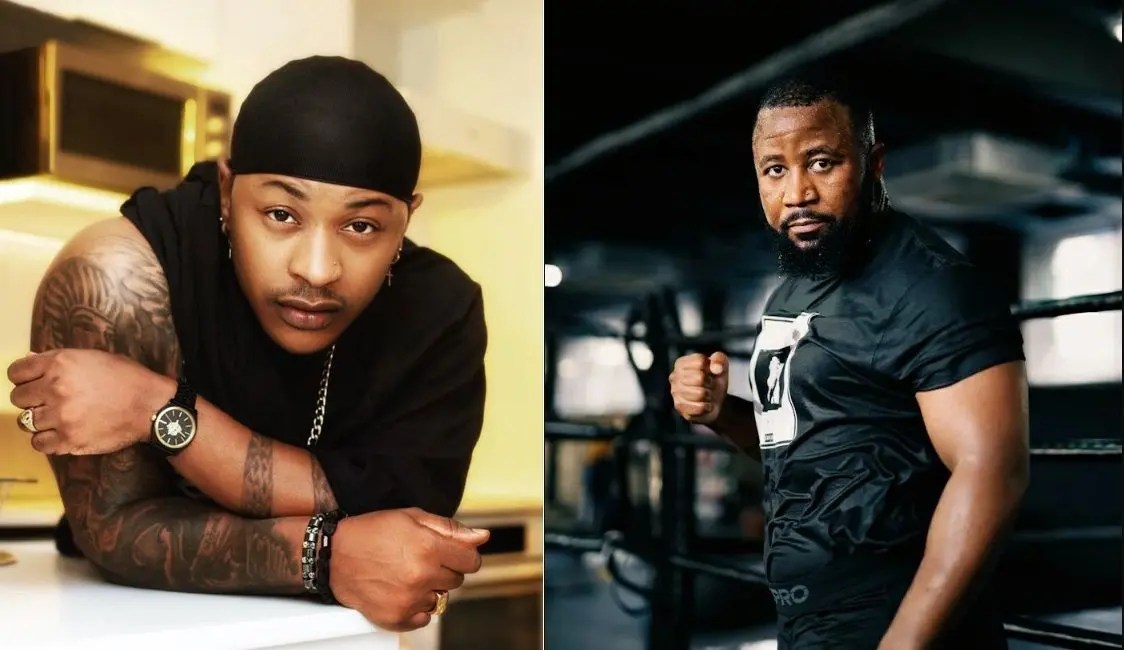 Mufasa aka Cassper Nyovest made history earlier this year by hosting the first ever celebrity boxing event where he faced NaakMusiQ. A fight he lost over what Refiloe believed was a technicality as he could not accept that he came second in a match that saw them hugging more than it did see them throw punches. Therefore, fans of the rapper were excited when he confirmed that there would be more celebrity fights in the future.
At the time, the biggest question was over who the rapper would get into the ring with next. Then in came Priddy Ugly, who of late has been receiving his flowers as a rapper rather than as a husband and father.
Ek se Abhuti Billiato, I was never scared. You hit my line & called me up about a fight & I gladly said yes, I didn't hesitate, I didn't stutter.

If you "Iron Mike" foreal, you can't be fighting people who can't fight. Seems to me like you the scared one.

You got my number 🤙🏾 https://t.co/yY8Zb7EOcK

— SUN from the SOIL (@ItsPriddyUgly) July 19, 2022
But once it was confirmed that Priddy Ugly would be the one to fight Cassper, things got awkward with back and forths over first signing the contract. Now it has moved to Cassper needing to lose weight in order for the match to take place.
In what seemed like an episode of deja vu, after it was confirmed that Cassper and Priddy Ugly were set to be the next headlining celebrity boxing match to take place. Cassper Nyovest had taken to social media to suggest that Priddy Ugly was holding up proceeding as he would not sign the contract to confirm that he was intent on fighting Nyovest in the ring.
.@ItsPriddyUgly we agreed to all your terms buddy. Sign the shit and let get this show on the road!!! You was busy talking shit yesterday!!!! Im dropping 20kgs just to fight you and ima still knock your head off!!!

— Don Billiato (@casspernyovest) August 25, 2022
The suggestion that Priddy Ugly did not want to sign the contract brought back the trauma of the back and forth between Nyovest and former celebrity boxing contender Prince Kaybee. This was back in 2021, when the celebrity boxing event was more an idea than an actualised event. Prince Kaybee spoke a good game on social media about being ready to fight Nyovest.
But it would then be revealed that Prince Kaybee was unwilling to sign the contract. At the time, Prince Kaybee suggested that the terms were not favourable as he got a once-off payment for agreeing to the fight. All the while Nyovest not only profited from the whole event, but would also earn a higher amount than Prince Kaybee to be in the actual fight. But Priddy Ugly quickly shut down this misinformation in his regard.
Cassper Told To Lose Weight By Priddy Ugly
Taking to Twitter after Cassper Nyovest called him out for allegedly not wanting to sign the contract. Priddy Ugly took to Twitter to indicate that he had signed the contract and it was in Nyovest's mail. However, he did add that the fight would not be possible if Mufasa could not lose over 20 kgs. The post confirmed that due to their significant weight difference, the two are in different weight and boxing categories. As such, in order to make the match fair, Nyovest would need to lose weight.
Yo @casspernyovest the contact in your mail. I BEEN ready to fight!

But y'all gotta stop playing with trying to manoeuvre around those weight clauses.

You a heavy weight & I'm a light middleweight, since we 1st spoke we discussed weight, let's not let this be an issue. Let's go

— SUN from the SOIL (@ItsPriddyUgly) August 24, 2022
For those wondering – I'm 74KGs, if there was a 32KG+ weight difference when we both met up to do a weigh in, you can do the math…

I'm in shape & ready.@casspernyovest must follow suit.

— SUN from the SOIL (@ItsPriddyUgly) August 24, 2022
Cassper then retorted, suggesting again that Priddy Ugly has not signed the contract. Moreover, that he was well aware that he needed to lose weight in order to be able to meet Priddy Ugly in the ring. Later adding that he is already in the process of losing the required weight in order to fight Priddy Ugly.
I'm not maneuvering around nothing dawgie dawg, just handling some BIG BOY shit. I told my team to agree to everything yall want and we should get this signed so I can whoop your ass. You getting a bit too cocky for my liking!!!!! Can't weight to knock you the fuck out!!! https://t.co/OsuedC2ioV

— Don Billiato (@casspernyovest) August 24, 2022