President Ramaphosa gave green light for Jacob Zuma release – More details emerge
President Ramaphosa gave green light for Jacob Zuma release – More details emerge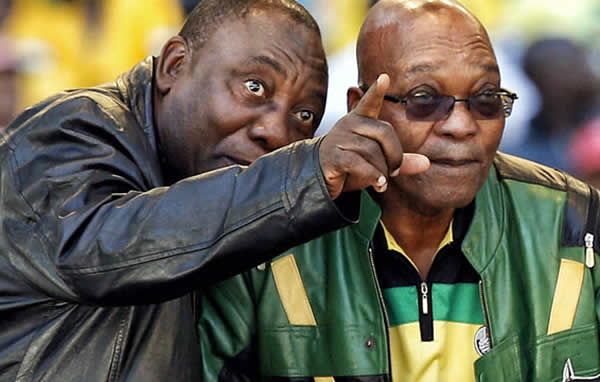 President Cyril Ramaphosa allegedly gave national commissioner of correctional services Arthur Fraser the green light to authorise the release of former president Jacob Zuma from prison on controversial parole grounds.
This is according to two sources who yesterday revealed that the prison boss consulted the president before deciding to release Zuma based on three medical assessments.
One of the sources privy to the discussions said: "The old man's seriously sick. There were three medical assessments, conducted by three different doctors, saying that the correctional service medical facilities were unable to cater for his ailing health issues. This information will be realised once the matter's heard in court.
The source said:
Fraser didn't want to have Zuma dying in prison. Imagine what chaos could [erupt] if he died in prison. That could be a repeat of the chaos in KwaZulu-Natal and Gauteng, if not worse.
Another source, who was privy to the details of last weekend's meeting of the governing party's national executive committee, said Ramaphosa told the participants that he had been consulted about the release of Zuma and that he had approved the prison boss' decision to order his release.
A senior ANC leader in KwaZulu-Natal told City Press yesterday: "What we have here is a man [Fraser] taking the fall for the party. There was an instruction from the top to let Zuma out. When he was arrested, we all knew he was going to be released before his time ended. It was all a plan in motion. Obviously, there was lobbying involved, but this plan was decided long before now."
he leader said Fraser had offered himself as the "sacrificial lamb because he has the power, and so that the ANC takes no blame after all the dust has settled".
Fraser this week confirmed that he had overruled the decision by the medical parole advisory board, which had not recommended that Zuma be released on medical grounds as it had found him to be in a stable condition.
Legal challenge
Fraser's decision has been met with outrage, with numerous interested parties mounting legal challenges regarding the matter.
The Helen Suzman Foundation has given Fraser until tomorrow to give his reasons for releasing Zuma. If he fails to do so, it will pursue legal avenues in having the decision overturned.
The foundation's lawyer, Pooja Dela of Webber Wentzel, said: "The reason for placing Zuma on medical parole is shrouded in secrecy. It seems to be based on a medical report, the details of which have been totally concealed from the public."
Dela said that, should Fraser fail to explain his reasons for authorising the release of the former president, the foundation would "exercise its legal rights, in its interests and in the public interests, on an urgent basis".
The foundation's challenge comes in the wake of the DA filing papers in the Johannesburg High Court to review and set aside Fraser's decision.
The DA will use every means at our disposal to protect the Constitution and the rule of law from destruction by the ANC and its evil cadre deployment.
Lobby group AfriForum has also written to Fraser, seeking explanations for his decision.
Other political parties have expressed similar outrage at Zuma's medical parole.
However, Llewellyn Curlewis, legal expert in the University of Pretoria's department of procedural law, said that, in strict legal terms, Fraser had not broken the law.
Curlewis said the Correctional Services Act 111 of 1998 gave Fraser powers to grant Zuma parole.
From a legal perspective, Curlewis said he did not believe the DA's application would succeed.
"From a practical point of view, it's not going to take the matter any further. It's waste of a lot of precious court time. It's waste of taxpayers' money. In fact, other than a political advantage, there's not going to be any benefit from the outcome of this decision, [other than possibly] for future precedents by our courts about how the Correctional Services Act should be interpreted in future, that might have a long-term effect for academic legal experts. But that's about it. We aren't going to see Zuma going back to prison for this incident."
He said section 52 of the same act gave the commissioner powers to set down parole conditions.