'Please protect Zola 7': Zola 7 almost knocked off the stage during a live performance [video]
'Please protect Zola 7': Zola 7 almost knocked off the stage during a live performance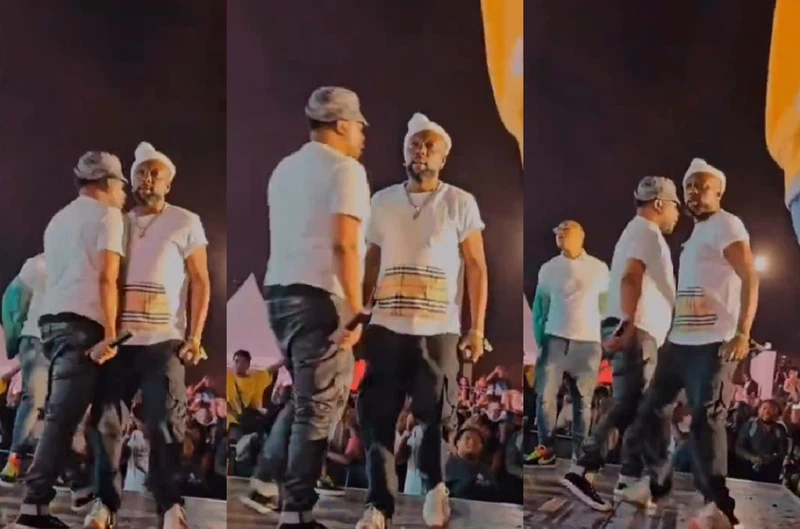 South African musician Zola 7 was almost knocked off the stage during a live [performance.
Zola 7, one of the most popular Kwaito stars, had a massive following and is one of the most loved stars.
Some people know Zola 7 as an actor thanks to his stunts with Yizo Yizo and Tsotsi roles.
With such a massive following, some fans believe he must be protected on and off stage.
When a video of him almost being knocked off the stage was made on social media, many fans were divided.
Twitter user @Zikamnyamane shared the video and was in tears at what he saw on the video.
ZOLA 7 ALMOST KNOCKED OFF THE STAGE DURING A LIVE PERFORMANCE
When Zola 7 was on the stage with a mic to his mouth dishing out music, a man identified as Amu.
The video left fans clashing. Some blamed Amu for trying to hurt Zola 7, while others disagreed.
They believed it was cheering him up and giving him the energy or some signal.
Indeed, only Anu knew what he wanted to do, but the video showed that Zola 7 was in danger of falling off the stage.
Guys please protect Zola7 😭 pic.twitter.com/ly594qZtdU

— Mnyamani🇿🇦 (@Zikamnyamane) October 11, 2023
MZANSI REACTS
As Amu almost knocked Zola 7 off the stage, many fans asked for his protection, while some believed it was between them.
"Is that Amu?? 👀 That's not a chest salute; I know a chest salute n that's not it 😵"
"I've just watched a lengthier vid from a different angle. There was nothing to this. They were jovial with each other and went on performing together!. Manipulated footage! 🚮"
"I'm glad Zola 7 ignored him , because that was aiming for a fight, and people be asking who is he ? He wants to be known and popular ,Zola 7 knows these things Same situation with Quality Biyela"
"There is no salute efana nalena bafwethu this Amu he did that on purpose why ngisho so just check the look after is says a lot that look"
"We need to fnd ths guy you can't disrespect the legend like this"
"Yini I proble ka @Amu it's clear you have knocked @Officialzola7 off the stage sies savage"