pics: Slay queen Sangoma Reneilwe Mhlongo breaks social media
pics: Slay queen Sangoma Reneilwe Mhlongo breaks social media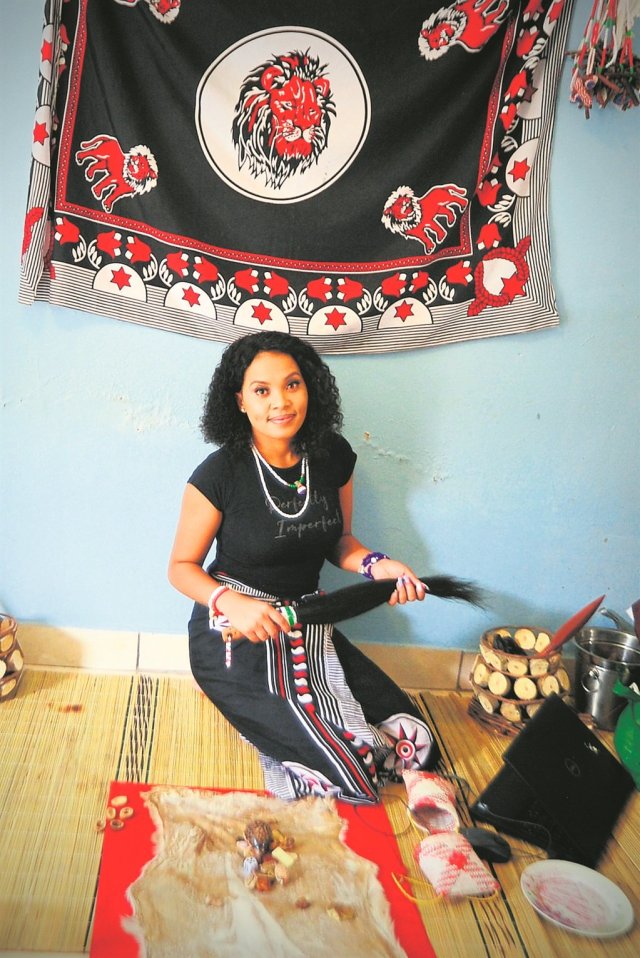 She is beautiful and many people call her a slay queen.
But she's not your ordinary slay queen.
Reneilwe Mhlongo is a sangoma, BUT this does not stop her from slaying.
Reneilwe still wears make-up when she consults clients in her indumba and even has a manicure and pedicure.
Her ishoba is so beautiful people never think it's an ishoba.
Walking into her indumba, everything is nicely packed in place and the indumba smells divine.
To top it all off, when people greet her they say "Thokoza, stocko" instead of the usual sangoma greeting, "Thokoza, gogo".
But none of this bothers Reneilwe, who said she is indeed a slay queen.
The 31-year-old from Midrand told Daily Sun she isn't an ordinary slay queen.
"I slay in my own way. I take care of myself in and outside of my indumba.
"I make it a point to always look beautiful in my profession.
"I put on make-up and do my nails and hair. I also make sure to dress neatly at all times."
Reneilwe said people believe izangoma are strange and should dress in a certain way.
"That should change. I want people to see another side of izangoma and know they're professionals in their field.
They can also look pretty in their izindumba, just like anyone else going to their workplace."
She said some clients, especially men, hit on her because of her beauty. But she finds a way to distract them.
Reneilwe slayed long before she imagined she'd become a sangoma.
"I decided not to change who I was and how I lived my life before becoming a sangoma," said Reneilwe, who's been a sangoma for two years.
"I still live my life to the fullest. I go out and still have fun. I go to gym and do everything normal people do."
She said one shouldn't change when they become a sangoma.
"All you need to do is respect the ancestors in everything you do," she said.
She denied her calling for a long time as she thought she'd have to become someone else once she accepted it.
But she was troubled and sick for a long time until she accepted her calling.
"I was healed after I accepted my calling," she said.
"My life went back to normal and that's when I realised I didn't have to change."
Gogo Mahlasela, which is Reneilwe's ancestral name, said many people run away from their calling out of fear.
"They think they'll have to leave their profession, but it's not like that.
"If you're employed you can still go to work.
"You can still do your nine to five while being a sangoma at the same time.
"You can still go out and have fun with friends. You should just let your ancestors know."