Pearl Thusi sets record straight after showing support for MacG
Pearl Thusi sets record straight after showing support for MacG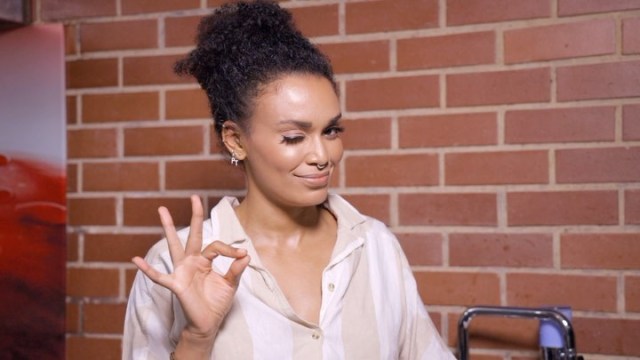 Pearl Thusi and Twitter trolls are the perfect example of a toxic relationship where both parties seem to not be able to live without one another. So when the "Queen Sono" lead did not engage with trolls during her latest trending session on the platform, many believed it was out of fear for her brands cancelling her, but Pearl returned with files and a lot to get off her chest- clearly, showcasing that her therapy session from earlier in the week set her free.
The first matter she addressed was that of being accused of being a transphobe "sympathiser." In the ongoing MacG saga, Pearl was one of the celebrities to catch a stray bullet as she apparently liked a tweet allegedly siding with MacG. The matter cannot be proved since Black and Lets-Troll-Pearl-Thusi brigade were not fast enough to screenshot and drag. Therefore, the loophole allowed Pearl to keep that Lays endorsement deal, along with the ability to return to Twitter and have the last laugh on the matter.
Transphobe sympathizer… me?!? 😂😂😂😂😂😂😂😂😂😂😂😂😂😂😂
Anyone who think that shot about me is a joke.
Rather just say you hate me and leave it there- stop trying to label me so you can justify.
I'm not going to argue. But seriously. 😂

— #QueenSono (@PearlThusi) January 29, 2021
Like I said. I honestly don't care what you think of me anymore HOWEVER…

You cannot and will NEVER stop my rise.
I will use all this negativity to motivate me. I'm an alchemist- I turn things into gold. Nothing will stop my go.

— #QueenSono (@PearlThusi) January 29, 2021
And any transgender woman I've met, any cross dresser etc that I've enjoyed time with I'm pretty sure will say otherwise.

But no one will speak of that while the heat on. Because people are afraid to cross black Twitter.

There's no love lost in my case. So 🤷🏽‍♀️ .

— #QueenSono (@PearlThusi) January 29, 2021
Next she dealt with the ongoing matter of the mystery man she is dating. For years, Pearl has been at the receiving end of allegations that she is only into dating Nigerian men. The good sis might have dabbled, but the only thing we know for sure is that she has dabbled with internationals as she has admitted to the fact. However, recently Pearl took to Instagram to give her man a shout out with a post of her vanilla bae cupping her finely pedicured feet.
After the post caught on- it was not long until trolls went in with the continued suggestion that he is another Nigerian descendant. But Pearl who was ready to shake the Twitter tables confronted the allegations and fought for her man. First, it was in the great spirit of ilwa-ntombo, by clarifying that her man is of the Caucasian drive residency.
Nomunye umlungu. Andi- happy sana! 😂🙏🏽 https://t.co/IgjhXKxP4d

— #QueenSono (@PearlThusi) January 29, 2021
Nah.
And no he's not Nigerian either .
Uyabazi phela o-put South Africa nywe nywe nywe bazoza kule tweet. https://t.co/jZdaLDQ3n4

— #QueenSono (@PearlThusi) January 29, 2021
__________________

*fill in the blank with what I almost typed R100*
First correct response will get a follow then please DM me your number . https://t.co/uQGvc0RAzE

— #QueenSono (@PearlThusi) January 29, 2021
Secondly- in only what was a matter of time- Pearl took on the Buss It Challenge. The video still offered flames, but even Pearl admitted to have taken it easy on us because- she has a man. Since she has confirmed the new man and the matter of his race- not yet his nationality; it might be time for Mama Pantha to just reveal the name.
On a positive note… this one for the fans. I love y'all! Thank you for loving me and my mess! 🥺❤️
I couldn't go too hard coz sengiyajola. 😂 pic.twitter.com/FD1bIVtnph

— #QueenSono (@PearlThusi) January 29, 2021
To close off a series of heated tweets, Pearl again addressed the matter of her being Pearl "Unyoko" Thusi. She, as she has numerous times in the past, let it be known that she has and will only use the insult when she has been dragged ruthlessly by trolls that forget that she is a mother. Moreover, they have mothers too, so if you come for her as a mother, she will come for your mother too.
Until God starts tweeting.
This b***h is never falling .

All this bull is quite distracting
But reminds me – I have a higher calling.

— #QueenSono (@PearlThusi) January 29, 2021
PS. Late reply to news that I was trending because I deleted this app to focus on the movie I'm shooting.

Sorry I missed the burn and y'all wasted all that data. 🙏🏽

— #QueenSono (@PearlThusi) January 29, 2021