Only the family can disclose the (King's) cause of death
Only the family can disclose the (King's) cause of death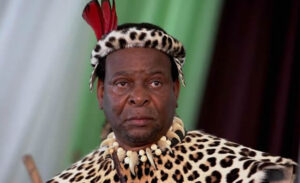 King Goodwill Zwelithini will be remembered by his brother as a 'loving king' Prince Mbonisi Zulu said on Saturday.
Speaking from the family homestead in Nongoma, KwaZulu-Natal, Zulu said there were "a lot of things I remember about my brother".
"He was a loving king, a very decent person, a father figure to the whole family. He was a lovely person. He was a man of God," Zulu said.
"They say that 'the tree has fallen' but for us the sun has shone."
King Zwelithini died in the early hours of Friday after his health took a turn for the worse in the intensive care unit of a Durban hospital.
He was a diabetic and had been hospitalised last month following concerns about his high blood sugar levels.
On Saturday News24 reported that Prince Mangosuthu Buthelezi said in a radio interview on Friday that the king had succumbed to Covid-19-related complications.
President Cyril Ramaphosa's acting spokesperson Tyrone Seale said on Friday that King Zwelithini would be accorded category 1 a special official funeral.
KwaZulu-Natal Premier Sihle Zikalala said the king would be remembered as a "loadstar" and as a person who always sought social cohesion to unite the nation across colour and political lines.
"His majesty made history as the longest serving among kings of the Zulu nation, but also presided over this nation during some of the most tumultuous and difficult periods in our history," Zikalala said.
"His majesty played a key role in the consolidation of post-apartheid South Africa into a democracy which recognised the diversity of our country. He will be remembered for his role as an apolitical, non-partisan and uniting monarch above the different political parties which contest political power," Zikalala said.
He said the king had reigned during "a very difficult period" in the politics of KwaZulu-Natal, when violent conflict among his subjects resulted in the deaths of thousands of people. Zikalala was referring to the widespread political violence of the last century.
"He was integral to the peace efforts that saw the ANC and the Inkatha Freedom Party put aside their differences to work together to bring about a better life for all the people of KwaZulu-Natal. The subsequent mutual respect for the institution of the Zulu monarchy was a direct result of his approach to embrace all, irrespective of party affiliation."
However, Zikalala said the king was never afraid to raise his views with government.
"He would engage us and it was not a confrontational engagement but a complementary approach," Zulu said.
The premier said the king had worked hard to nurture the young people and to engender respect for all races while promoting social cohesion.
King Zwelithini (72) reigned for 51 years over the Zulu national after taking the throne in 1971 aged 21. He succeeded his father King Cyprian Bhekuzulu ka Solomon.