One of Jacob Zuma's 23 children now a single mother, dumped by Pearl Thusi's ex-husband Walter Mokoena
One of Jacob Zuma's 23 children now a single mother, dumped by Pearl Thusi's ex-husband Walter Mokoena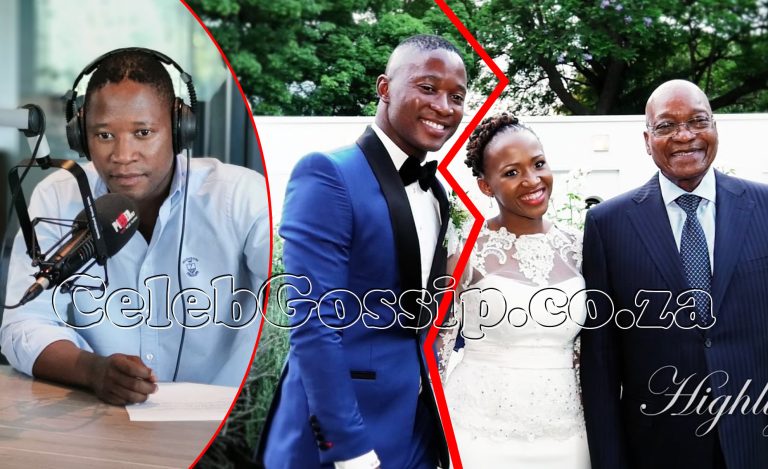 The marriage of renowned former television soccer presenter Walter Mokoena has collapsed.
Sunday World reported that the six-year marriage to Nosizwe Vuso, the daughter of former president Jacob Zuma, has petered out and the two quietly separated in May last year. Jacob Zuma reportedly has 23 children and Nosizwe Vuso is one of these 23 children.
The startling titbit, was revealed by a close confidante, who did not want to be identified.
Our source said Mokoena, the former SABC sports presenter, has since moved out of their matrimonial pad in Morningside, Johannesburg, and now lives in Bedfordview, Ekurhuleni.
The source said Mokoena and Vuso enjoyed their marital bliss after getting married in 2014, but the novelty of their nuptial started showing cracks when Mokoena started complaining about his wife being depressed and constantly displaying mood swings.
"He often complained that their marriage was suffering as a result of Nosizwe's depression and mood changes. After several family meetings convened with the elders to try and save their marriage, Walter decided to leave their home.
"He told her he no longer wanted to continue with the marriage under those circumstances and left her," said the source, who is close to the couple.
Mokoena confirmed the breakup, and said they were on the verge of untying the knot.
"It's a fact and fact of life, it is what it is. It's like anything that disappoints and hurts. You can't sit there and wallow in selfpity and lament. Even the great Madiba [the late president Nelson Mandela] had to go through these kinds of things. Successes and failures are a part of life," he said.
Mokoena also confirmed that their desperate efforts to try to rekindle their love and save their marriage through a series of family meetings proved fruitless. "Yes, despite all the efforts, we fell short," he said.
Mokoena further said although their separation was not acrimonious, they are no longer friends. "We drifted apart; we grew apart. But we have children together, we are good partners to raise our children, she is a great mother, she was a great wife and will be a great partner to raise our children, but I cannot say we are, or we will be friends."
Mokoena was formerly married to sultry television presenter Pearl Thusi, and was evasive when asked if he would ever get married again.
In the late 2000s, Pearl Thusi and Walter Mokoena were in a relationship that resulted in the birth of their daughter- Thando Mokoena. Despite a section of the public believing that the two were married, in actual sense, they were never married and their relationship was not that great.
"Maybe I'm the problem. Maybe I'm not good at this thing. I tried my best on two occasions and I failed. I don't think I'm good at this thing. Maybe the problem is with me. I must also look at myself. As much as the success of this marriage would have had my fingerprints on it, its failure should also have my fingerprints on it."
Mokoena declined to disclose details of their differences.
"Without going into details, we differ and hold different views, and when you think things should be done your way and they are not done your way, then you become incompatible," Mokoena said.
"It's like when you are operating on a digital platform and another person is operating on analogue, you can't progress. If you stay in that relationship, then you live a lie. It's like you are trying to portray a false image of yourself when you are not happy," he said.
Vuso had not responded to our written questions at the time of going to print.