Ntsiki Mazwai causes chaos after claiming Bonang doesn't solely own her alcohol brand
Ntsiki Mazwai causes chaos after claiming Bonang doesn't solely own her alcohol brand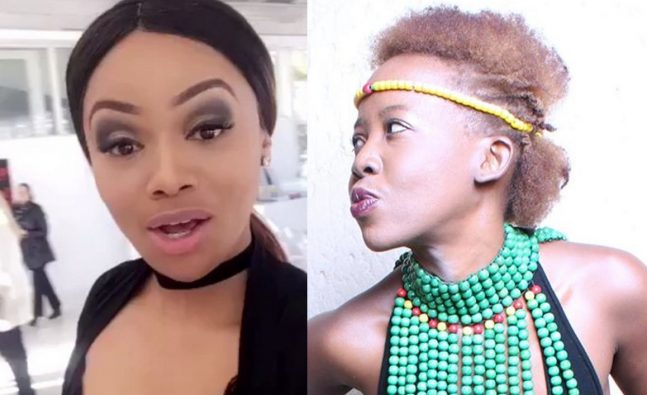 Ntsiki Mazwai has taken to her Twitter to throw shades at Bonang Matheba for not solely owning her alcohol brand.
The star caught the attention of so many stating that Bonang is the sole owner of popular BNG brand.
Ntsiki claimed that she is just the face used to up the sales but not the real owner of the brand.
She also continues saying that black people strive on deceiving their own with pretentious business ventures and call it black intelligence, claiming that nobody ever comes back to social media to give credit for speaking facts about their favorite celebrities.
Ntsiki stated that she is also a business owner and she knows what it takes to be a real businesswoman.
She made an example off herself revealing that her beadwork business that she owns by herself and solemnly makes executive decisions is a good example of what a business owner is.
See some of her tweets below:
Believing Bonang owned the wine was like believing she owned Revlon
…….. She is just the marketing gimmick to sell these products. Not the owner.

— ✨KUMKANIKAZI✨ (@ntsikimazwai) August 23, 2021
Black people don't own anything becuase they hail the fronting blacks and call it excellence…..

— ✨KUMKANIKAZI✨ (@ntsikimazwai) August 23, 2021
Yazi you guys never come back and say 'Ntsiki we were wrong about you'
😂😂

— ✨KUMKANIKAZI✨ (@ntsikimazwai) August 23, 2021