Nota Baloyi disappointed by Halle Bailey's alleged pregnancy
Nota Baloyi disappointed by Halle Bailey's alleged pregnancy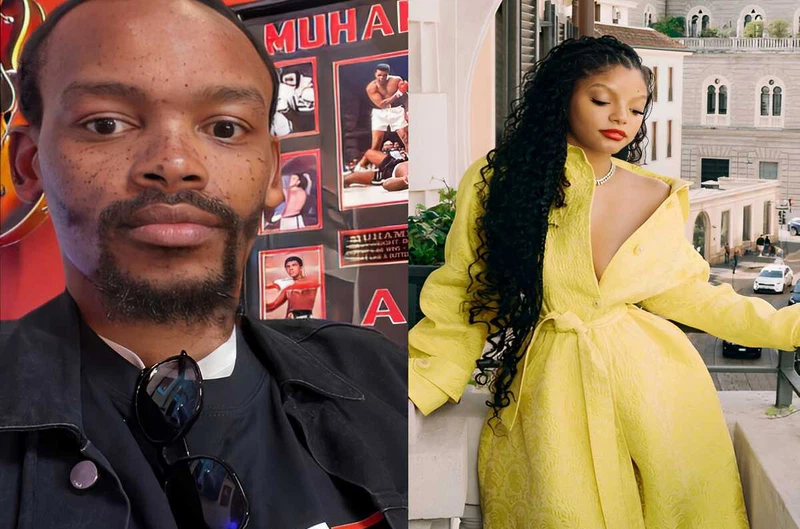 Controversial music executive Nota Baloyi stirred the pot recently by expressing his feelings about American singer and actress Halle Bailey's alleged pregnancy.
NOTA BALOYI AND HALLE BAILEY
Taking to social media, Nota Baloyi said he was hurt after seeing candid pictures of Bailey. The pictures showed Halle Bailey, who allegedly looked pregnant.
"I got woken up at 2 a.m. Now I can't sleep. Why Halle? Damn, oh well," he wrote.
Nota Baloyi hurt by Halle Bailey's unconfirmed 'pregnancy' – https://t.co/66AYkfosNl

— Sunday World News (@SundayWorldZA) October 17, 2023
Baloyi's comments on social media sparked a whirlwind of reactions, shedding light on the complex interplay between celebrity privacy, public interest, and the role of the rumour mill, especially in Halle Bailey's case.
HAILEY BAILEY PREGNANCY RUMOURS
Halle Bailey, who is known for her role as Ariel in the film 'The Little Mermaid,' found herself at the centre of this rumour storm. Despite the rumours and controversies surrounding her personal life, her professional career continues to soar.
These rumours first began circulating when Halle Bailey was spotted wearing an oversized outfit at the 2023 MTV Video Music Awards, prompting fans and the media to question whether there might be truth to the speculations.
"Damn, Halle Bailey's really pregnant by a bum, that sucks."

"HE'S NOT A BUM! HE GOT HIS FAMILY OUT THE HOOD WITH A YOUTUBE CHANNEL!!!" pic.twitter.com/gC6Frj2ATX

— Alien Fupastar (@ThoughtsByJae) October 17, 2023
HAILEY BAILEY AND DDG
The rumours intensified with subsequent sightings, such as Halle Bailey's appearance in Santa Monica, California, alongside her boyfriend DDG. Bailey's life as a talented artist, coupled with her growing career, has naturally drawn attention, making her personal life a subject of immense interest to the public.
As we navigate the intricate web of celebrity rumours, it's essential to consider the delicate balance between a celebrity's right to privacy and the public's insatiable interest in their lives.
WAIT…Halle Bailey really is pregnant omg??? pic.twitter.com/YJnqZyMVkm

— icy⁷ ♡'s iñaki godoy (@luffyslover) October 16, 2023
TIME WILL TELL
The Nota Baloyi and Halle Bailey saga serves as a reminder of the ethical considerations and challenges that entertainers, the media, and the public face when confronting rumours and speculations about personal matters.