Nonku Williams and Rough Diamong are engaged (Video)
Nonku Williams and Rough Diamong are engaged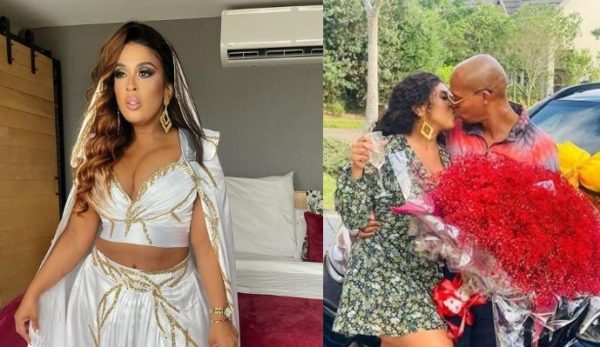 Nonku Williams says "YES" to Rough Diamond's marriage proposal
RHOD star Nonku Williams and her convict boyfriend Dumisani Ndlazi a.k.a Rough Diamond are set to tie the knot.
Video of the proposal from Rough to the reality TV star surfaced on social media and has people talking.
A shocked Nonku dressed in a black dress said a big Yes to marrying Dumisani.
Twitter users trend the TV star has many were shocked at the news.
"Nonku is engaged to a convicted rapist. This is so disappointing," a tweep wrote.
"I hate it when middle aged, successful women throw their lives away like this. Nonku would have been better off living with her kids, healing from past traumas and enjoying her hard earned money but ke "love" is the end all and be all for women," another tweep wrote.
See the video below and other comments:
NONKU LOOK AT ME https://t.co/nBCWVgRKRZ

— Junior. (@_shookknight) March 28, 2023
Ohhh Nonku sanalam they coming for you in these streets 😮‍💨😩😩 pic.twitter.com/v6Axsmkpvn

— Rhadebe 💎 (@Xozam1) March 28, 2023
Nonku Williams….🥲….I can't defend you every day sis…💀 #RHODurban pic.twitter.com/FOpG2rfRZZ

— LH/LBJ (@LH44LBJ23) March 28, 2023
NOT Nonku getting engaged to urgh dee??? pic.twitter.com/1IO4Nb3OsX

— ✘ (@6uhle) March 28, 2023
Wait, RD proposed to Nonku??? pic.twitter.com/WU82U4vtji

— A. ✨ (@Athee__M) March 28, 2023