New cute video of DJ Zinhle and Pearl Thusi silences fight speculations – Watch
New cute video of DJ Zinhle and Pearl Thusi silences fight speculations – Watch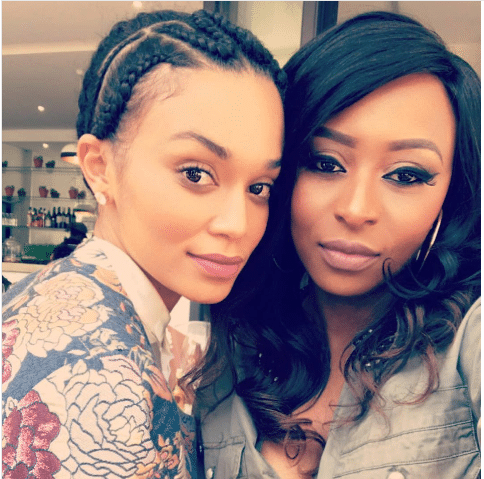 DJ Zinhle and Pearl Thusi's friendship has been the target of Twitter assumptions and speculation based on outsiders sharing what they believe is going on. It seems that every month, the best friends have to take to the timeline to assert that they are not only still best friends but that the opinions of the outside world on their friendship do not change how they feel about each other.
This week, DJ Zinhle needed to take to the socials to assert that her friendship with Pearl Thusi, or Sthe as Zinhle refers to her, was stronger than ever. This follows a viral video of DJ ZInhle seemingly pushing away Sthe from her decks. A story that Zinhle asserted was based on the fact that she was sharing the decks with friend and business partner Brandon Reynolds.
However, what seemed to have allowed for the narrative to be perpetuated was the fact that Zinhle and Pearl, despite sharing moments from Moozlie's 30th Birthday Soiree via their stories and social media, the pair did not share any stories and images of them together.
Following Zinhle taking to the socials to assert that she and Sthe are fine, with Sthe also returning to Twitter to confirm the assertion. It seems that damage control needed to be done as a video has surfaced showing what really happened at Moozlie's birthday celebrations.
It seems like it was not Thusi that was not the one doing the running after DJ Zinhle. But it seems that DJ Zinhle was actually the one running after Thusi. The video was initially shared by fellow member, Thabsie, of the fivesome Zulu Girl Squad, consisting of DJ ZInhle, Pearl Thusi, Nomuzi "Moozlie" Mabena, Yolanda Vilakazi and Thabsie.
Thabsie shared the video detailing how she fell in love with Moozlie's eccentric uncle during the birthday celebration. It just so happened that while taking the video, she would capture the two best friends happily (maybe a bit drunkenly) playing a game of cat and mouse. The video clearly supports the "fun" that the two have asserted to having together at the birthday celebration.
DJ ZINHLE AND PEARL THUSI BIENG FRIENDLY pic.twitter.com/LAmuRsPVo3

— Pdfs4U (@varsilife) September 24, 2022