Mzansi reacts to video of President Ramaphosa looking at new Transport Minister Sindisiwe Chikunga
Mzansi reacts to video of President Ramaphosa looking at new Transport Minister Sindisiwe Chikunga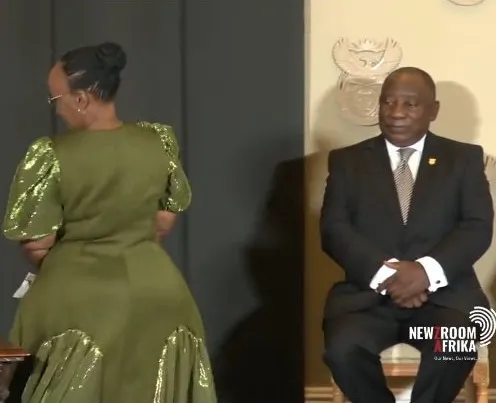 There is really never a dull moment in Mzansi and every chance trolls get a chance, they vividly use it! A video of President Cyril Ramaphosa looking at new Transport Minister Sindisiwe Chikunga's behind has left social media users in stitches.
Past few days, Ramaphosa announced a cabinet reshuffle, bringing in new members into the executive and axing old ministers. Controversial Minister of Sports, Arts, and Culture Nathi Mthethwa, who planned to build a R22 million flag monument, was booted out.
Vocal African National Congress (ANC) secretary-general Fikile Mbalula was also elbowed out and replaced with his deputy, Sindisiwe Chikunga.
Chief Justice called the new Minister of Transport, Sindisiwe Chikunga, who strolled majestically to the front. The 64-year-old politician was rocking an olive green loose dress, which did nothing to conceal her heavy lower build.
When Sindisiwe Chikunga strutted forward for her swearing-in, her back and behind were right next to Ramaphosa, who could not help but steal a glance at the new minister's wide hips and rounded behind.
Watch the funny video below:
Mara Matamela le yena🤣🤣😭 he couldn't resist

— ❤Miss💖Boroboko💕 (@Tumie_Boroboko) March 8, 2023
Man will always be man. 😂🤣 pic.twitter.com/m4dmLJ8ucg

— Reader Boycot🇿🇦 (@ReaderBoycot) March 8, 2023