Mzansi reacts as Somizi can't resist Maps Maponyane – Photos
Mzansi reacts as Somizi can't resist Maps Maponyane – Photos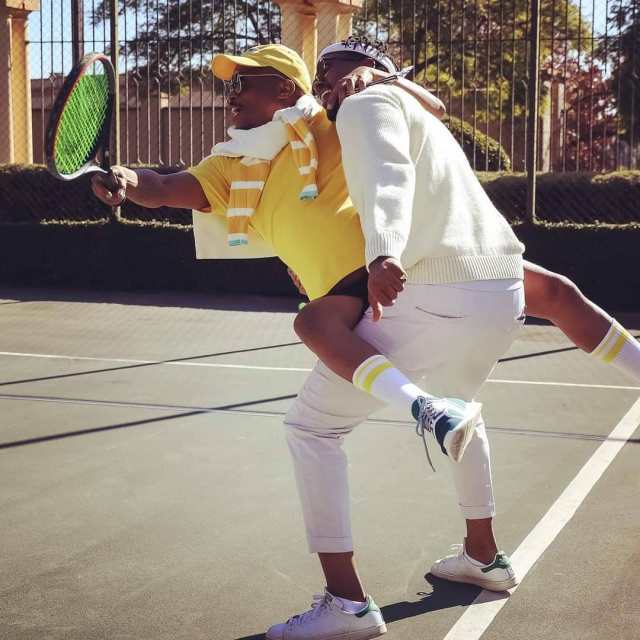 The idols judge Somizi has once again sparked some serious rumours on social media. This comes after he posted a picture of himself with Maps Maponyane during the weekend. The picture itself says a thousand words by just looking at the way the two appear in the picture.
Somizi's caption is even worse and has Mzansi astonished. Taking to Instagram Somizi says,
"When @zinathu said im playing doubles she was not specific about the rules…..and imagine playing with @mmaponyane as a partner and not hit two balls I mean two birds with one stone…….#wimbledon37"
Many of his fans are left speechless but have to love Somizi's caption. The divorce with Mohale has not taken the humor out of Somizi and people are glad he is taking the process well. Reacting to the picture, here are some of the comments:
"Two birds with one stone neh???😂😂😂😂"
"I am a tennis player mara this one is at another level 🤣🤣🤣🤣🤣🎾🎾😂le cell phone😂 u are very creative Somgaga. Nice photo to the photographer📸"
"😂😂 how can you play like that 😂😂."
"😂😂😂😂😂😂Bathong Som Som. 😂😂Kerata caption net."
Caught on camera, we love it 😂😂😍😍. Looks like fun was had 😍😂😂😂."
"I love the chosen theme 👌🏾👌🏾👌🏾 @zintathu chose well."
Somizi's love life has been rocky and his fans wish him only but the best. At some point he stayed in a relationship for five and half years with someone who hid their relationship. Although he never disclosed who that person was it still feels bad. Despite all this drama, Somizi deserves to be happy and he encourages people not to be forced to come out until one is fully ready.
Then came Mohale into Somizi's life who people think only entered the marriage for money. The two have split and seem to have moved on quite well.