Mzansi in panic as Mr JazziQ goes missing
Mzansi in panic as Mr JazziQ goes missing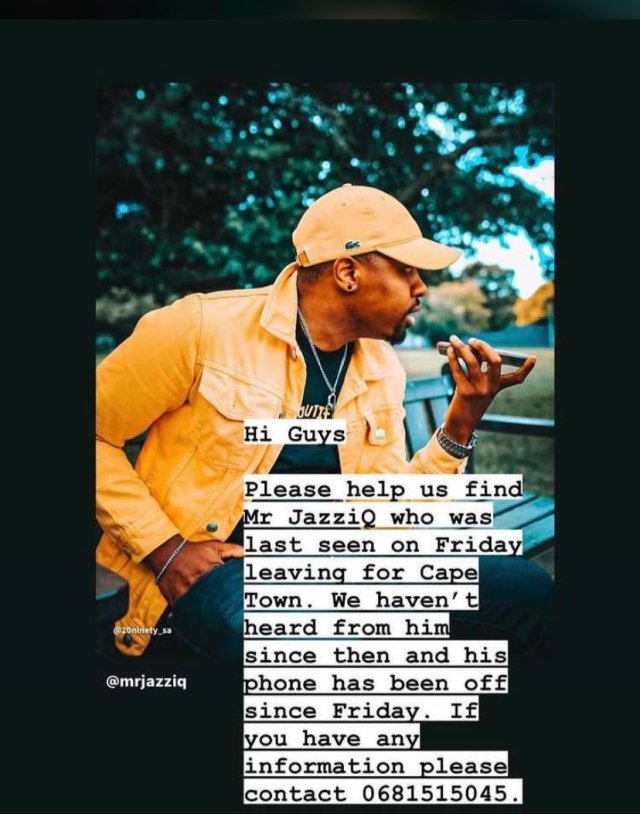 South African music producer, Mr JazziQ was reported missing on social media this Monday afternoon.
The DJ is highly loved by most people as he's crowned one of the best music artist in SA, and this got most South Africans worried upon hearing that he is missing.
Some claimed it was publicity stunt, but most fans stood in his defense with claims that his brand is bigger then pulling such stunts.
People immediately trended the issue, in other to find the young man.
Apparently @MrJazziQ is missing, he was last seen on Friday traveling to Cape Town.

If you have any info please contact the number on the picture. pic.twitter.com/6QfJCTeWLl

— Kanya Ntshongwana (@kanya_kb) February 1, 2021
Guys find JazziQ right this instant!!!

— 🍭 UncleBae 🇮🇹 (@MokwanaMojalefa) February 1, 2021
However, minutes after the news went viral, a friend of JazziQ claimed that the DJ is fine.
"Hi guys, Mr JazziQ is safe. Thank you to everyone who shared the post."
The latest update got people excited, as it is believed that the DJ is a South African treasure.
JazziQ is fine everyone, I was worried😅 pic.twitter.com/d4NsRmdFvp

— OneFourtyFive⚬ (@geezybeatz145) February 1, 2021