MZANSI DRAG DJ MAPHORISA AND THULI'S RELATIONSHIP – THEY FEEL HE DOESN'T DESERVE HER
MZANSI DRAG DJ MAPHORISA AND THULI'S RELATIONSHIP – THEY FEEL HE DOESN'T DESERVE HER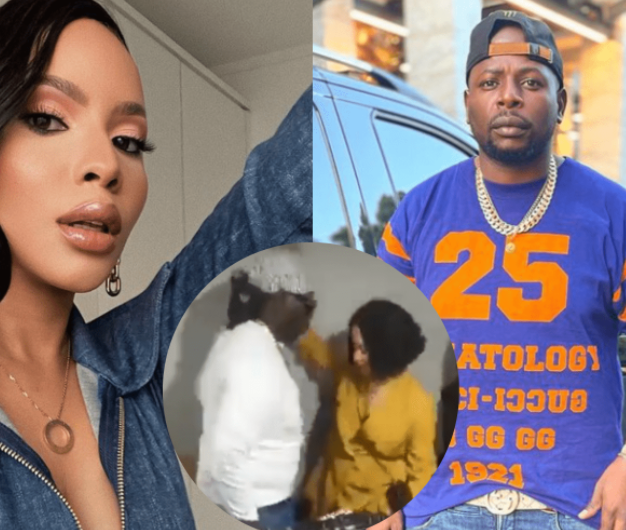 DJ Maphorisa can't seem to catch a break from these social media streets. While his relationship with Thuli Phongolo's has not been confirmed, it has sparked a major colorism debate on Twitter. Their relationship has come under fire on Twitter because some tweeps think Phori is not worthy of Thuli.
The two sparked dating rumours a few days ago after a video of them looking extra cozy went viral on social media. More videos of the two together have gone viral which suggests that the two might be in love. Although Thuli has come out to refute claims that she has found love in the arms of Maphorisa, tweeps aren't buying her story.
Another video showing Thuli playing at groove with Maphorisa by her side has gone viral. Her glance at Phori has left Twitter users in awe: home girl is gone guys. They are convinced they might be the newest couple in celebville, despite Thuli denying all the rumors.
They look so happy 😍 #Thuli wa Phori pic.twitter.com/qQkRzhlYvp

— Memme (@enhle_entle) October 13, 2021
But, it seems not everyone is happy for Maphorisa for stealing Thuli's heart. Trolls feels he doesn't deserve a light skinned girl. This ruffled the feathers of some Twitter users who defended Maphorisa saying he deserves to be happy also. Some have even accused Thuli of being in a relationship with Phori for his money.
Tweeps reacted to their relationship.
@SithaleKgaogelo "This impression that Phori doesn't deserve these beautiful women is weird man. And this is normally done to dark skinned gents.. same was said about Dr Musa,"
@MrDenotion "Never underestimate a guy from Pitori, they know nice things. Even at their lowest with a R0.0 bank balance they'd still cuff the hottest girl in the room.. That Thuli and Maphorisa thing has nothing to do with what Phori has in the bank, it's normal where we come from."
@moorelyfe1 "May all women be like Thuli and all men be like Phori in Summary may we all just be happily in love without complications, be affectionate and love out loud without fear if the unknown."
@AndileGogoda "Okusalayo Dark skinned dudes never had an issue with getting beautiful light-skinned women. Dr Musa & Phori
@LizaNjee "I really thought you guys loved Maphorisa, this from y'all I did not expect. DARK SKINNED PEOPLE, WE'RE ON OUR OWN"
@Sabzero07246356 "Phela ungakhohlwa ukuthi uThuli she's Xhosa, so we need to protect phori's pocket arebatle mawazawaza mo
@ChrisExcel102 "It's that we saying Phori doesn't deserve beautiful woman.. But we all know Thuli Phongolo is dating Phori because of..
Before Thuli was rumored to be dating Maphorisa she was apparently romantically linked to Murdah Bongz and Black Coffee. Recently she claimed that she was not ready to date, "Everyday I think I'm ready to date but then everyday I'm not ready… because wow, amadoda!"
This is the same woman who said SA men are not for her. "The happiness and peace I'm experiencing right now! My life journey is heading towards my desired direction. I'm so spiritually aligned. My loved ones fulfill me. My work is in order. I'm gradually dealing with mishaps with a sense of calmness. I'm genuinely enjoying life. Grateful! In terms of love, I don't think I'll win in S.A she said on IG months back. unless a miracle happens but ke angifuni shame. Ha ke batle, immediately no,"