Mzansi celebs congratulate Phelo Bala on his new spiritual journey
Mzansi celebs congratulate Phelo Bala on his new spiritual journey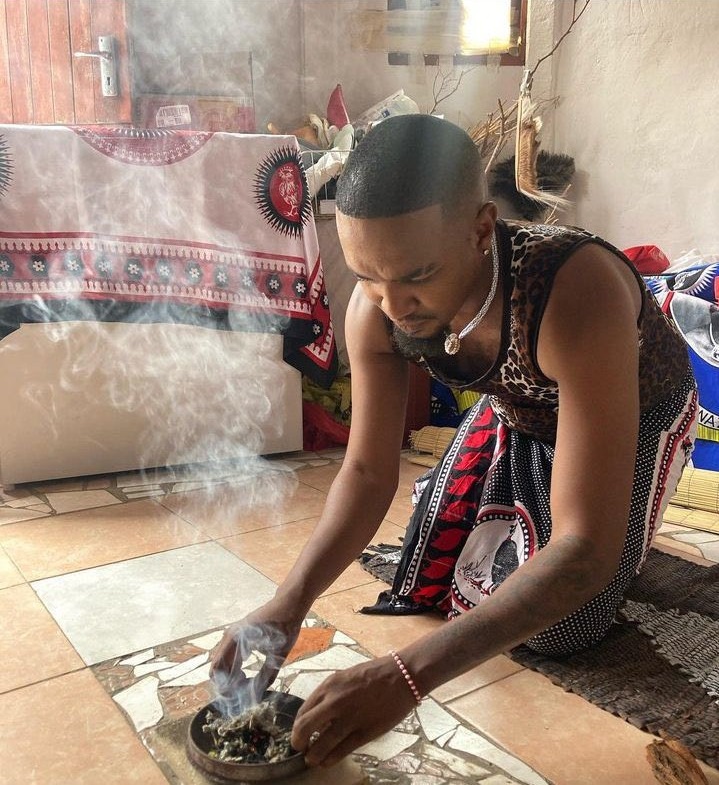 Phelo Bala of the famous tenor group The Bala Brothers has become a traditional healer. In a photograph shared on his Instagram page this week, the Eastern Cape-born star is seen practicing some ritual in what seems to be an ancestral sacred practice space (Emakhosini or Indumbeni).
In a photograph shared on his Instagram page, this week, the Eastern-Cape-born star is seen. He simply captioned the post: "Emakhosini".
Fellow celebrity traditional healers including Gogo Maweni, Zodwa Wabantu and Gigi Lamayne flooded Bala's comments section to wish Bala well on his new journey.
"Makhosi Skhokhorico I'm so happy for you ❤️❤️❤️," said reality TV star and dancer Zodwa Wabantu.
"So happy for you !!!," commented musician and podcast host Gigi Lamayne.
"Thokoza Ndlondlo," added TV producer Zola Hashatsi.
While industry friends, fans and followers continued to wish the muso well, naysayers couldn't help but share their snide comments, with some referring to Khanyi Mbau's controversial statement about people mistaking anxiety for an ancestral calling.
Mbau, who never shies away from controversy, set tongues wagging after she shared on her Insta stories earlier week that people must stop wasting money on cows and goats, and instead they must invest in good vitamins to help improve their health.
"You do not have a calling – it's anxiety," said Mbau.
"This is the most anxious generation – that's why we have so many sangomas. I am not attacking you.
"Just saving you money. Stop buying cows, chickens and goats. Instead, buy melatonin to help you sleep and boost your serotonin, so your mood is better.
ad
"Magnesium and lots of B12. You can be your own healer," explained the 'Young, Famous and African' star.
Meanwhile, Zodwa received flak after sharing a video of herself performing traditional rituals on her Instagram this week.
Below are some of the comments shared in Zodwa's comments section.
Tommy Obed wrote: "Kkk what she's smoking is not good."
Wakagabuza said: "Yini manje Zodwa?(What is this now Zodwa) haaai bo…Try something else sisi, this one is not you."
Nhlapo Thabile wrote: "Savelelwa yini Zodwa anisiyekehaaa zangoma zamanga", which loosely translate to "Are we being tested or what with these false sangomas? Please, leave us alone".
Applemunch added: "Zodwa stop taking chances. Go to the clubs and dance naked and make money like you used to. You are wasting your time girl. No one is going to consult to you. O party animal."