Mthokozisi Thwala details how he was tortured by police to confess to killing Senzo Meyiwa
Mthokozisi Thwala details how he was tortured by police to confess to killing Senzo Meyiwa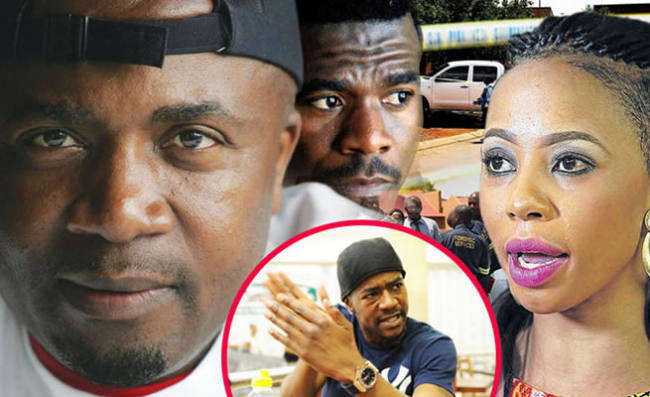 Senzo Meyiwa's friend, Mthokozisi Thwala took to the witness stand for the second day of the trial, detailing how he was tortured by the police as they hoped he would confess to the murder. For most of his time on the stand, Thwala fought back his tears and even reached breaking point forcing the presiding judge to rule for short adjournments so he could compose himself.
Thwala said he was fetched from his home in KwaZulu-Natal by two officers, Lieutenant-Colonel Joyce Buthelezi and Warrant Officer Meshack Makhubo in 2019. He said they drove with him to Joburg without letting him prepare for his trip. "They told me that I took an oath that I would avail myself whenever I was needed. They took me to a room I believe was officer Buthelezi's. I could tell by the pictures on the wall that we were in Buthelezi's office. She told me that some officers were fetching Tumelo and others were fetching Kelly. Around 10pm, two unknown men came, and they just kept assaulting me and told me I would eventually confess to what they were accusing me of. I was screaming as they assaulted me for hours," he said.
Thwala said when the sun rose after a night of torture, Buthelezi came to the room and said:"You don't want to participate." He said Buthelezi and Makhubo left the police station with him and drove to Vosloorus. "In my initial statement, I said I escaped to the house next door to Kelly Khumalo's home after the shooting and that's where the two officers took me. Buthelezi questioned me and asked how I got into the neighbour's yard, and I explained, shortly after that, I was taken to my aunt's house in Katlehong." Thwala said Buthelezi demanded a statement from him and asked him to send it via WhatsApp. "She wanted me to say I was not in the house when the shooting happened, Buthelezi wanted me to lie. I wrote the statement according to how it happened, and not in the manner in which she wanted, and sent it to her. It's still on my WhatsApp, I still have her number as well as the date and everything," he said. Meyiwa was gunned down in October 2014 at his then girlfriend, Kelly Khumalo's home in Vosloorus. The accused Muzikawukhulelwa Sibiya, Bongani Sandiso Ntanzi, Mthobisi Prince Mncube, Mthokoziseni Maphisa and Sifisokuhle Nkani Ntuli are charged with premeditated murder, attempted murder, robbery with aggravating circumstances, possession of unlicensed firearms and ammunition. They have pleaded not guilty. The trial continues today.