Mom of 10 Goisame Sithole held 'against will' – Lawyer sues government as case takes new twist
Mom of 10 Goisame Sithole held 'against will' – Lawyer sues government as case takes new twist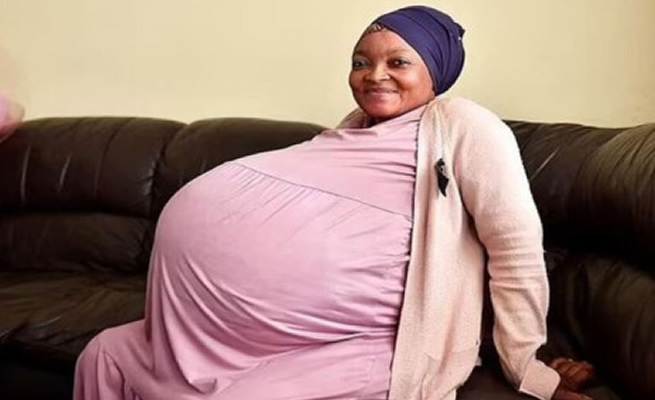 GOSIAME Sithole will apply for an urgent court interdict to force the Gauteng Department of Social Development to release her from its custody against her will, her lawyer said.
Refiloe Mokoena said she received the instructions after the department forcefully took the decuplets mother to Tembisa Hospital in Ekurhuleni for psychological assessment yesterday.
Nearly a fortnight after Sithole gave birth to 10 babies at the Steve Biko Academic Hospital in Pretoria on Monday last week, the whereabouts of her children and their state of health remain a mystery.
Mokoena said instead the police arrested and handed her to the Department of Social Development, which took her to hospital against her will. They also denied her legal access and permission to be evaluated by private psychologists alongside the ones appointed by the department, she added.
"She declined that she should be taken to the Tembisa Hospital for a psychiatric evaluation because she felt strongly that she is of sound mind. Not only is she of a sound mind, but she is capable of making independent decisions.
"She then instructed me to accompany her to the Tembisa Hospital in order for me to satisfy myself as to the location where she was being taken to. Indeed I did that. And when we arrived at the hospital, they took her straight to ward 14, being the psychiatric ward. They told me that now that she was in their custody, they would not be allowing the lawyers and the team of psychologists that she had requested to be present," Mokoena said last night outside the hospital.
"When I left Tembisa Hospital, she made it very clear that seeing that she is now being held against her will, I should please move an urgent court order for her to be released because they intend holding her for a period of 72 hours. She says the social workers have told her that her twins are at a place of safety but she doesn't know the location. She's now been admitted to the psychiatric ward at Tembisa Hospital against her will."
Gauteng Department of Social Development spokesperson Feziwe Ndwanyana and Gauteng Community Safety Department spokesperson Pinkie Numa referred all enquiries to provincial government spokesperson Thabo Masebe, who said: "Kindly direct your enquiries to the SAPS." Gauteng police spokesperson Kay Makhubela referred questions back to the Social Development. However, last Thursday the GDSD issued a statement rubbishing claims that Sithole had gone missing following the birth of her decuplets.
"The Gauteng Department of Social Development wishes to confirm that the mother of the decuplets is not missing. She has contacted the Gauteng Department of Social Development and the department will make an announcement in due course. The provincial SAPS has been informed."
In light of this statement, yesterday's actions by both the SAPS and the GDSD have fuelled speculation regarding the motives behind the detention of Sithole.
Gauteng Community Safety MEC Faith Mazibuko and her Social Development counterpart, Morakane Mosupyoe, could not be reached for comment on Sithole's arrest and allegations that they were part of a plot to cover up the decuplet scandal.
Government Communications and Information Systems (GCIS) chief executive Phumla Williams, who previously insisted that the government could not "verify" Sithole's delivery because it did not appear in its records, said yesterday: "I will not say anything beyond the statement that was issued on Monday June 7. I stand by that statement and I will not comment further." Presidency spokesperson Tyrone Seale declined to comment.
Earlier, Mokoena accused the police and GDSD of abuse of power abuse after Sithole was detained yesterday.
She said police kept Sithole against her will and denied her access to legal representation, saying they needed to hand her over to the department.
Mokoena said Sithole was picked up from a relative's place at Rabie Ridge, Midrand, and taken to the police station at Chloorkop in connection with the missing person inquiry opened by the family of her partner, Teboho Tsotetsi, last Thursday.
She said while the police insisted that Sithole was not under arrest, they refused her legal access.
Sithole later told Independent Media that police officers in plain clothes and in an unmarked vehicle picked her up at around 6am. A discussion ensued in the parking lot between Mokoena, the investigating officer in the missing person inquiry, Captain Selcke, and the station commissioner of Tembisa South police station, Colonel Boloka, about the reasons for Sithole's arrest.
The trio could be heard arguing about whether or not there was a case against Sithole, or a court order for her arrest, and the basis she was being held.
Questions were asked about why the police detained her in connection with their missing person inquiry despite Mokoena having made arrangements with Selcke on Wednesday to accompany her to the police station on Thursday.
Boloka and Selcke could be heard telling Mokoena that Sithole was not under arrest. Mokoena suggested that Sithole be taken inside the police station to give a statement and close the missing person inquiry, but Captain Motsai refused, saying he was in charge and his instruction was to hand her over to the department.