Mihlali Ndamase Tweets Her Future Husband
Mihlali Ndamase Tweets Her Future Husband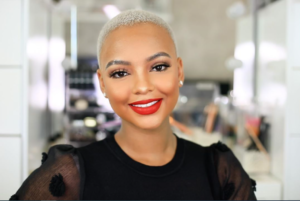 Multi award-winning YouTuber and businesswoman, Mihlali Ndamase just got her followers emotional by tweeting a sweet message to her future husband. The content creator who never reveals the identity of her partners on social media tweeted: "I can't wait to spend the rest of my life with the love of my life, imagine waking up next to the person you love forever. I'd cry 40 days and 4o nights."
Though she revealed that she is currently single and often laments her relationship issues with her followers, she was romantically linked to someone last year.
Here were some reactions from her followers:
"I feel like the more I manifest the LOML the more singleton years God is adding to my life."
"Isebenza njooonnnnnyyy le way???."
"Ntombazana sixaxekile luQhushululu lwase Wits wena Wena busy bubhanxa boo LOML and LOVE, khawlilele Abantwana base Wits."
"I tried it twice and it didn't work! Good luck! Great meeting you on this 'bird'.
Tjooo Lord knows I'm ready, funny this is the first tweet I see after coming from YouTube watching Prince Harry and Meghan's wedding. Testament it shall come to pass. AMEN."
She also trended on social media last month when she revealed that she went to her first vagacial, 48 hours before Valentine's Day.
She tweeted:"Got my first vagacial today, chile I'm definitely making this a habit. Mami is soft and tender ngathi she's about to fall off the bone."
The process which is popular with the A-listers and uncommon with a lot of women is described as a genital grooming trend that's similar to a facial. The process smoothens, deep cleanses, exfoliates, and steams a woman's virgina and at times add a variety of masks and serums, like they would a face.
The YouTuber also shared a traumatic experience last month of nearly being shot by a crazy man at the garage in broad daylight. The beautician had a strange yet agonizing encounter with a man who kept staring at her till she felt uncomfortable. When she asked him why he was staring at her, he went off on her and emotionally left her shocked.
Though Ndamase is a very beautiful woman, she finds it awkward and uncomfortable when fans, especially men look at her constantly and creepily. She's opened up about how awkward it is when people stare, so it is no surprise that she finally gained the courage to ask a strange man why was he starring at her.