Mihlali Ndamase reacts after being compared to Sithelo Shozi
Mihlali Ndamase reacts after being compared to Sithelo Shozi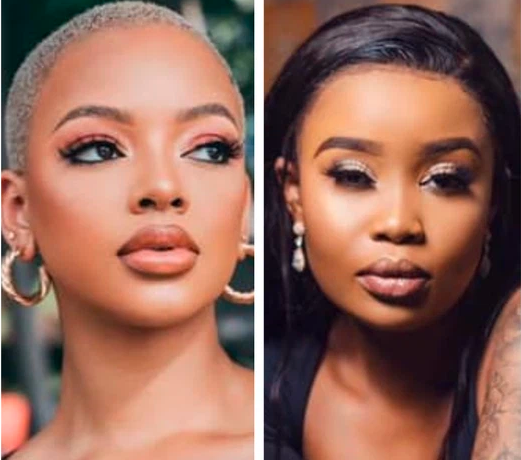 Sithelo Shozi takes the trophy for the best BBL (Brazilian Butt lift). Now that her body is among the best in the game, the internet cannot stop comparing her to all the other girlies with the same body type.
Sithelo took a week-long trip to Istanbul, Turkey where she visited The Clinic for a BBL and to purchase new set of teeth. She shut the internet when she debuted her new body in a PlayBoy-themed photoshoot.
Recently an Instagram gossip page, Maphepha Ndaba compared Sithelo and Mihlali and asked who is your fighter. People are loving both the girl's bodies but Mihlali did not appreciate being pit against the DJ.
She commented on the gossip page's comment section and said, "Let's try to learn how to appreciate women without pinning them against each other."
Opening up about her BBL, Sithelo shared that she wants to break the stigma of people being victimized because they chose to have surgery.
"@the_clinique really came through when I was struggling from my first procedure. Fibroids, lump, and a really hard tummy from my first liposuction. I did not have enough fat but I tried to gain weight lipo + bbl."
"I was at the hospital. I was advised to be here for two days but I think on the third day I will go to the hotel. There will be so many things I'll be doing. The doctor will Advise. "
"I wish we'd retract the surgery stigma we seem to pass on. There's absolutely nothing wrong with giving yourself a makeover, it's each to their own when it comes to such after three children. This was the best decision and best reward I could've given myself." she shared.
"After spending the past two months doing some diet planning and endless takeout's, I was finally able to gain enough weight and fat for the procedure I wanted. My hip dips must've been my biggest worry and also achieving my desired shape."
People are still going crazy over Sithelo's BBL.
Sithelo Shozi👏🏽👏🏽👏🏽👏🏽👏🏽👏🏽👏🏽👏🏽👏🏽👏🏽👏🏽 pic.twitter.com/defD1HOmy9

— Nozipho Thando Jonas (@NoziphoJonas) October 1, 2022
@sithelo_shozi your body man 🥰🥰🥰🥰🔥🔥🔥🔥🥵🥵🥵 pic.twitter.com/o6dWYPa4jJ

— Dally_Mkhize (@Mbalenh52205575) September 30, 2022
Eva Modika got trolled when she showed off her BBL as she bragged about doing it first before Sithelo. At some point she trolled Sithelo for following in her footsteps or in her terms, copying.
"Not the Mayor of Etheku in Turkey at the same clinic as where I did my body and that time she blocked me. Talk about influence mama," she said. "You inspire people who pretend to not see you."
Her BBL was dubbed one of the worst and these new images are telling. People trolled the life out of Eva.