Meet Dr Thakgalo Thibela (21) – The youngest female doctor in South Africa
Meet Dr Thakgalo Thibela (21) – The youngest female doctor in South Africa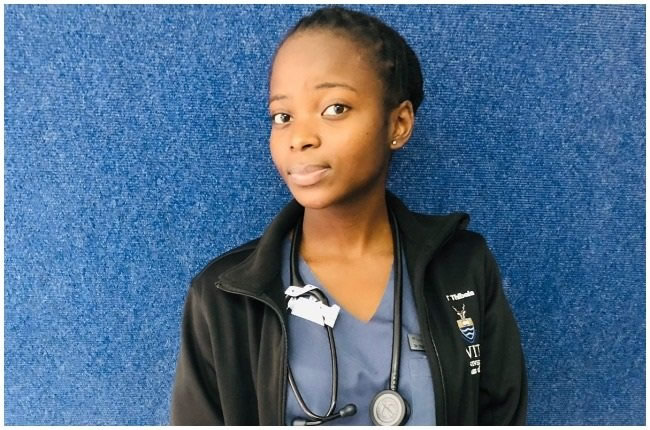 At the age of 21, many people are still trying to figure themselves out in terms of their career paths. Dr Thakgalo Thibela on the other hand has – at 21 – has already completed her Bachelor of Medicine and Bachelor of Surgery (MBBCh) degree and is currently practicing at the Helen Joseph hospital in Johannesburg.
This makes Dr Thakgalo Thibela the youngest active female doctor in South Africa, according to the spokesperson of The Health Practice Council of South Africa (HPCSA), Priscilla Sekhonyana who confirmed that Thibela was the youngest Active Dr currently on the IN Register.
Achieving such greatness was no walk in the park for Dr Thibela. She's had to overcome many challenges and pick herself up to accomplish her dream.
The doctor – who hails from the village of Violent Bank near Bushbuckridge in Mpumalanga – tells 'TRUELOVE' all about her journey.
Her early academic life Dr Thibela started primary school at the age of 6 at Farel Primary School where she was the top student from grade 1 to grade 6. When it was time to go to grade 7, the school made her skip the grade and promoted her straight to high school. "I was excited and nervous when the school principal announced to me in the presence of my parents that because of my academic excellence, they decided not to waste my time and promote me to high school," she says.
I am enjoying what I am doing at the hospital. I am getting clinical exposure and my theoretical knowledge is also being reinforced
She then went to Lehlasedi High School where she was promoted to grade 10 because of her outstanding academic performance.
"I was the top of the class the throughout and as a result I was promoted to grade 10 within a week after the school principal had realised my potential. In school I was active in extramural activities such as drama, netball, choir, poetry and debate," she tells us.
The following year things started to take a different turn for Dr Thibela when she realised that her grade 11 results were not looking good; she knew she had to do something about it. Her teacher also told her that she needed to pull her socks up.
"I attended extra classes, Saturday classes and studied with friends to improve my marks that were not above average."
Luckily for her all that hard work paid off and in matric, Thibela passed extremely well finishing off her high school career with 7 distinctions at the age of 15.
The journey to becoming a medical doctor
After obtaining seven distinctions in her matric year, Thibela was awarded a bursary from the Industrial Development Corporation (IDC), a company that partnered with Lehlasedi High School to sponsor the top learner every year.
She was then admitted to Wits University at the age of 16 enrolling for a six year degree in the Bachelor of Medicine and Bachelor of Surgery(MBBCH). She continued to work hard and remain disciplined and her efforts earned her the qualification of her dreams.
Upon admission, the university refused to provide her with accommodation because of her age. Although she was disappointed by that, she was fortunate to get a place to stay not far from the university.
She tells us that she was continually ridiculed by her university peers for not pronouncing certain English words the way that they were pronounced by most, and she was ridiculed for her accent.
"I was deeply demoralised and that affected my self-esteem," she says."
"That made me scared to express myself in front of my fellow school mates/peers."
However, she managed to fight through that and place most of her focus on her school work.
What I like about my job is that even though I may look young, patients never refuse to be examined
Her academic excellence earned her the Golden Key International membership, a recognition for students who are doing well academically and excelling in Universities all over the world
Now she is doing her practical experiential learning at Helen Joseph hospital in Auckland Park – where she started this year.
"I am enjoying what I am doing at the hospital. I am getting clinical exposure and my theoretical knowledge is also being reinforced," she says.
"What I like about my job is that even though I may look young, patients never refuse to be examined. Instead, they are pleasantly surprised and ask me how old I am and end complimenting me for being a doctor at an early age."