Meet Blue Mbombo's rumoured baby daddy
Meet Blue Mbombo's rumoured baby daddy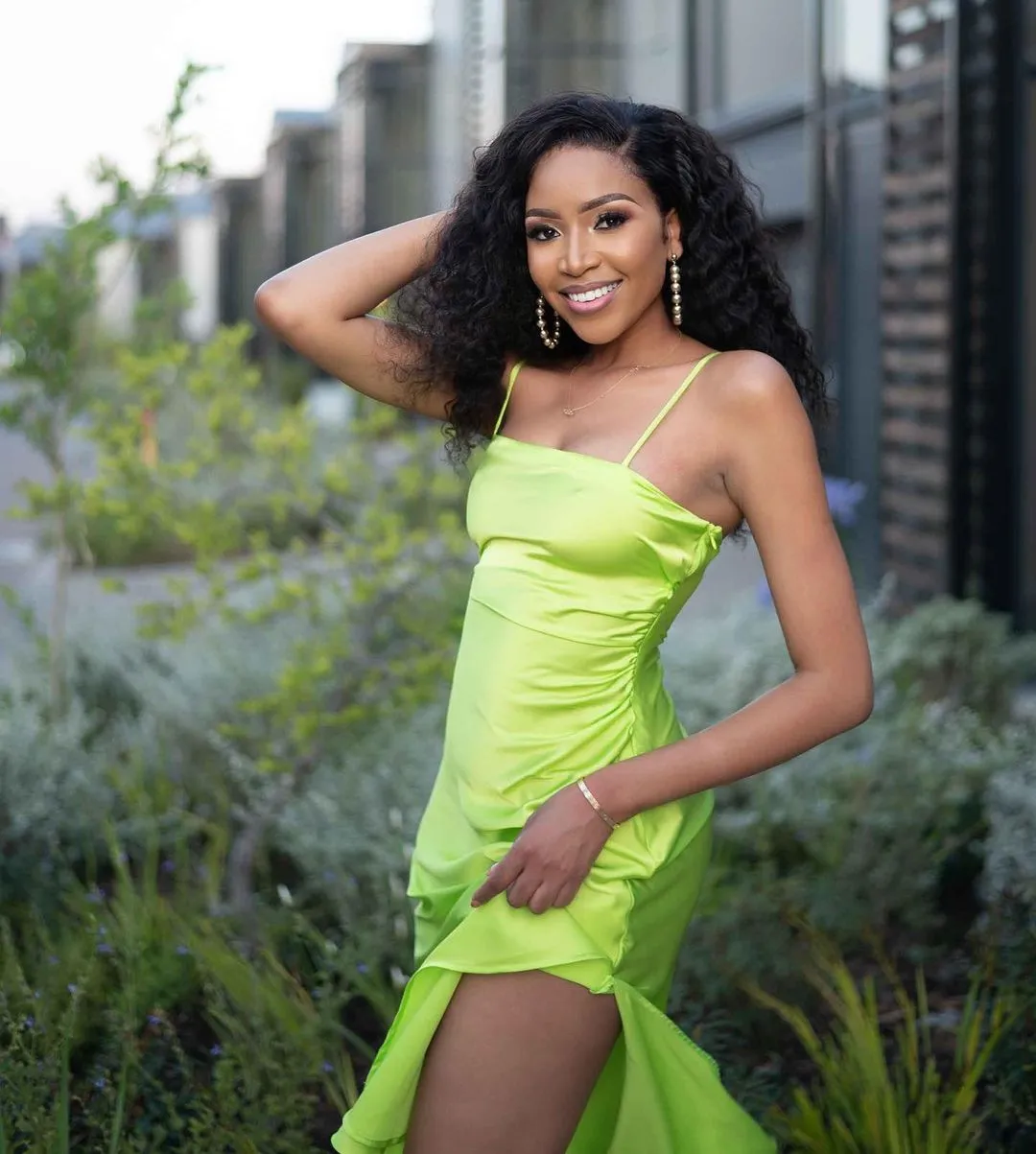 South African model, Blue Mbombo and her sister Brown Mbombo are amongst the most famous twins in South Africa. The fraternal twins who bear a striking resemblance have been in the entertainment industry for years now and although they are each doing their own thing, they are both winning big.
A couple of months ago, Blue Mbombo who is also commonly referred to as The Royal Duchess by those close to her, joined the list of celebrities who became mothers in 2022 after welcoming her bundle of joy into the world a few months after publicly revealing that she was expecting.
Throughout her pregnancy and even after her birth, speculations about Blue Mbombo's baby daddy who has been kept a secret have been making rounds on social media and it's time we address those speculations.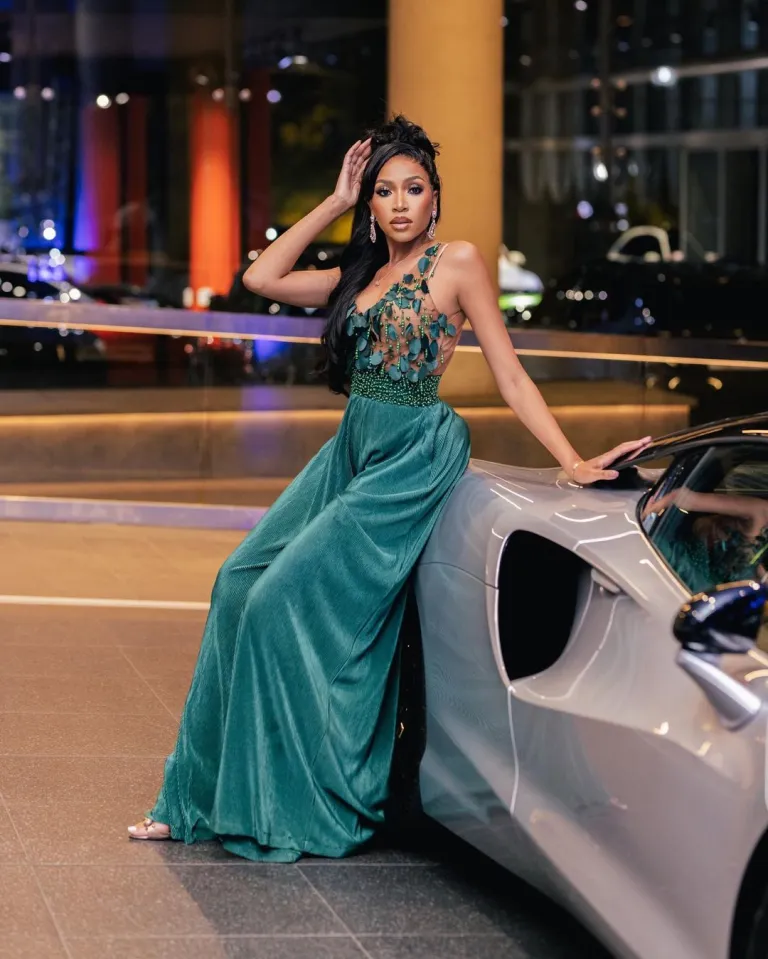 Here is a look at the real identity of Blue Mbombo's baby daddy, some of her rumored partners, and her relationship history.
The identity of Blue Mbombo's baby daddy, has not been revealed to the public and although throughout her pregnancy and even after delivery she kept acknowledging her man in her posts, she has never once shared his photos or his name and as it stands his identity remains a mystery.
Despite deciding to keep her relationship with the father of her child private, tweeps seem to be very keen on finding out the identity of Blue Mbombo's baby daddy and a few names have been mentioned here and there.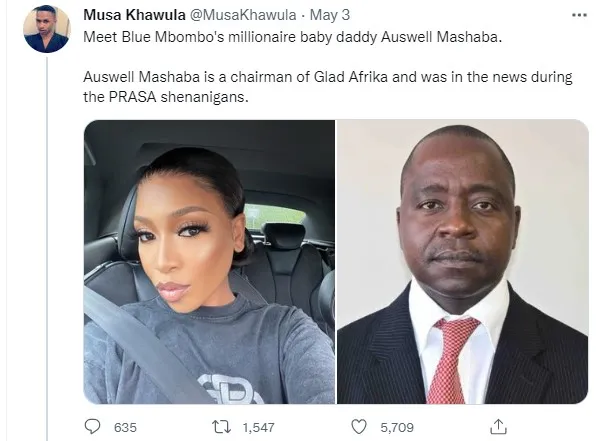 According to some sources (read Musa Khawula,) Blue Mbombo's baby daddy is allegedly a loaded millionaire called Auswell Mashaba.
Auswell is the founding director of AM Consulting Engineers (AMCE), and according to some sources, he is also the chairman of Glad Afrika.
Shortly after Musa Kwahula's tweet alleging that Auswell Mashaba is Blue Mbombo's baby daddy went viral, the beautiful model got wind of the allegations and immediately shut down the rumours and blasted Musa Khawula for lying in order to get likes and retweets.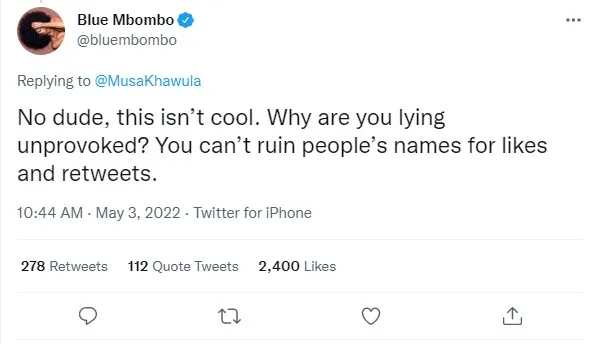 Since the mother is the one who knows the identity of her child, we can only wait for Blue Mbombo to reveal her mystery man herself, and in the meantime, we can expect more speculations and rumours to come up. A few tweeps already speculate that DJ Sumbody might be the lucky father.
As of June 2022, Blue Mbombo is not married, at least according to public records and while the former reality star revealed that she is currently in a relationship, the identity of her partner is not known.
At some point, Blue Mbombo was in a serious relationship with former Mpumalanga Black Aces midfielder Onyekachi Okonkwo, but the two broke up.
During Big Brother Mzansi, Blue Mbombo met rapper Katlego' K2′ Mabusela and the two started dating after the show. Even though their relationship looked like it would last forever, in 2016 they went their separate ways after calling quits on the relationship.
After these two very public relationships, Blue Mbombo seemingly decided to keep her relationships private and while we don't know the reason for her change in heart- we respect her decision. After all, it is said that what people don't know they can't ruin.