Matthew Booth and Bongani's relationship reaches new heights
Matthew Booth and Bongani's relationship reaches new heights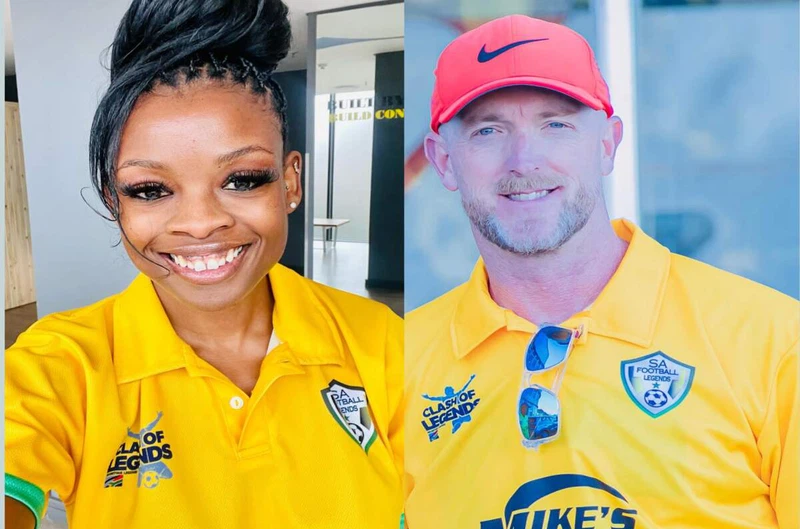 Former Mamelodi Sundowns star and SuperSport analyst Matthew Booth has been making headlines lately, but not for his exploits on the soccer field. Instead, it's his alleged romance with Bongani Mthombeni-Moller that's capturing the public's attention, the alleged couple took their relationship to the next level.
MATTHEW BOOTH AND BONGANI
Matthew Booth's life took an unexpected turn when rumours of his relationship with Bongani Mthombeni-Moller emerged. It all started with a scandal that shook the South African celebrity scene.
Reports of Matthew moving out of his home with his estranged wife Sonia Booth and allegedly living with Bongani Mthombeni-Moller had tongues wagging. The public couldn't get enough of this unfolding drama.
MEETING THE FAMILY
Despite the swirling scandal, Matthew Booth and Bongani Mthombeni-Moller decided to take their relationship to the next level. Matthew met Bongani's family and the Instagram story that captured this moment had fans talking. Given the circumstances and controversies surrounding their romance, it was a significant step.
Matthew Booth really love this girl😭🤚🏿

From baking her a cheese cake to being co owners of the football academy🤚🏿🤚🏿. pic.twitter.com/2Dgpj5ivef

— HavalH6GT (@MathathoKarabo) September 17, 2023
Surprisingly, this scandalous affair took an unexpected turn towards positivity. Matthew Booth and Bongani Mthombeni-Moller have joined forces to establish Booth Education and Sports Africa (Booth Africa).
BOOTH AFRICA
This unique partnership is aimed at positively impacting the lives of young South Africans through football. Matthew, a former football legend, is now actively involved in providing coaching clinics to schools, clubs, and communities.
Entrepreneur Spotlight – Bongani Mthombeni-Moller
Director of Smart Mobility Advisory Group, Royal HaskoningDHV

Royal HaskoningDHV, an independent, international engineering and project management consultancy with 140 years' experience..

READ MORE: https://t.co/Xt3Z8pVs6k pic.twitter.com/DBjyuN20Hj

— SA Profile Magazine (@SAProfileMag) August 30, 2022
On the other hand, Bongani, with a background in business and infrastructure, is overseeing the strategy and program management. Their shared passion for football, youth empowerment, and community development has taken centre stage in their new venture.
POSITIVITY
Their commitment to uplifting communities through sports and education is inspiring, and it's clear that this new chapter in their lives is one filled with hope and positivity.
As they continue to make headlines, it's not just their love story but also their shared vision for a better future for South African youth.