'Makoti wa rena': Natasha Thahane's video in Orlando Pirates gear breaks Insta [Watch]
'Makoti wa rena': Natasha Thahane's video in Orlando Pirates gear breaks Insta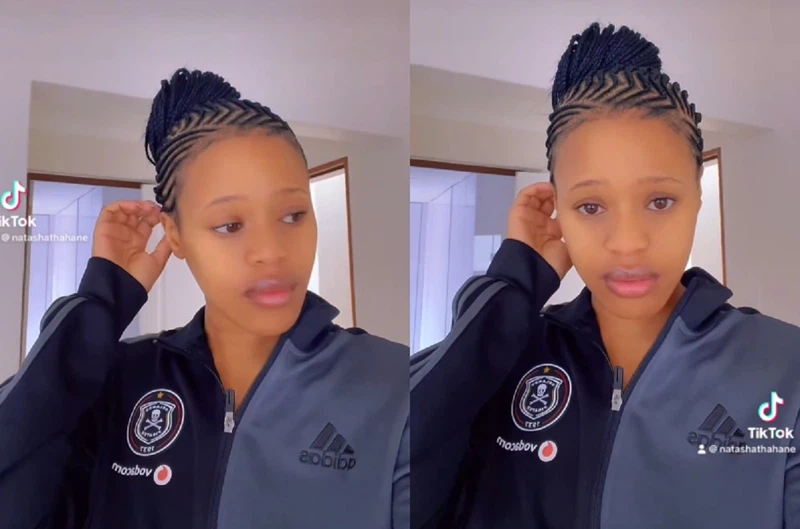 Natasha Thahane's video in an Orlando Pirates gear left fans calling her Makoti wa rena.
The talented model was married to Orlando Pirates midfielder Thembonkosi Lorch, and they had been a fans' favourite couple.
More than not, the two stars had been making goals, teasing fans with jokes and anticipations.
This time, she made a good morning video and shared it on Instagram.
Her video left fans focusing on showing her much love of being a Pirates makoti rather than of a good morning.
One fan specifically could not reply to a good morning but praised her for loving Pirates.
NATASHA THAHANE'S VIDEO IN ORLANDO PIRATES OUTFIT BREAKS INSTA
Orlando Pirates won the MTN8 final against Mamelodi Sundowns over the weekend, and they had been celebrating.
Some of their players made rounds on social media after their wild celebrations in the dressing room.
With so many vibes at P[irates, it seemed Natasha Thahane also wanted to be part of the celebration.
She made an exciting video begging her husband, Thembinkosi Lorch, to go with her to work.
PIRATES FANS REACTS
After Natasha Thahane's video in the Orlando Pirates outfit went viral, many fans loved it and showed her love.
"You can't not want me sister. It's in the work of happy people. He hit the ovroll with thanks. 🏴 ☠️☠️"
"Mlandele wena Dali…these niggaz sometimes say NO when they mean yes😂😂😂"
"Hamba Wena baby ubabambele amabholo😂😂😂😂😂 sizowonner waya waya motivation engaka🔥🔥👏👏🙌🙌❤️❤️"
"Ngeke ucoach evume uze laphaya uzophazamisa ulorch kwi gym😂😂❤️"
"Su ready vele akakuthole ku passengers seat ,Nathasha I can't teach you everything"
"Already you on the uniform mos just hop in the car and wait for him there 😂😂😂😂"
"…at that time you already wore the Uniform 😍😍😍"