LISTEN: Da Les Gucci Snakes song addresses AKA's lifetime betrayal
LISTEN: Da Les Gucci Snakes song addresses AKA's lifetime betrayal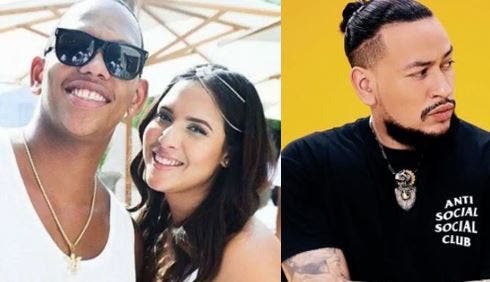 Well in the mix of things AKA woes are haunting him day by day and it seems he is having a fallout with his close friends too. No doubt Supa Mega has been making all sorts of headlines since the death of Nelli Tembe and secrets of their toxic relationship have found their way to the public.
One of Nelli Tembes close relative pulled a shocker and dropped a bombshell alleging that AKA was cheating on Nelli with Da Les baby mama.
In the mix of things DaLes has got Mzansi talking after some of his fans thinks that Gucci Snakes was a direct diss to AKA who went behind his back to date his baby mama.
South African social media users believe that Da Les addressed AKA in one of his recent songs. The song in question is called Gucci Snakes and mentions people who try to hook up with other people's girlfriends, just as AKA allegedly did.
The resurfacing of the song comes after a letter was released that outed AKA for allegedly hooking up with Da Les' baby mama.
However, Mzansi has since weighed into the matter with its two cents. Did Da Les knew that AKA was having an affair with his baby mama? It seems as if Da Les has already addressed AKA allegedly hooking up with his baby mama Aurea Alexander. According to some, the rapper's song titled Gucci Snakes has a line that addresses a similar scenario.
However it rumour has it that AKA hooked up with Aurea and then paid her off to stay silent. After the truth was revealed, Da Les allegedly confronted him. Here are some of the bars from the diss tracks that got Mzansi talking.
"Niggs would try to buy your soul just to take your place. Try to fck your baby mama to see how it tastes. Handshakes associates a turn to Gucci snakes."
Despite all this, some social media lashed out at AKA. Here are some of the comments that flooded social media.
@lehxkhensani said: "Gucci snakes by Da Les, makes so much sense after this…"
@thu2za said: "That 'Gucci Snakes' song by Da Les really backs up the AKA and baby mama story in the email… that email sounding more and more credible by the minute bro."
@punisher_zar said: "That 'Gucci Snakes' song by Da Les will be known by the whole of South Africa. I for one didn't know it until today."