List of SA celebrities with vitiligo – Photos
List of SA celebrities with vitiligo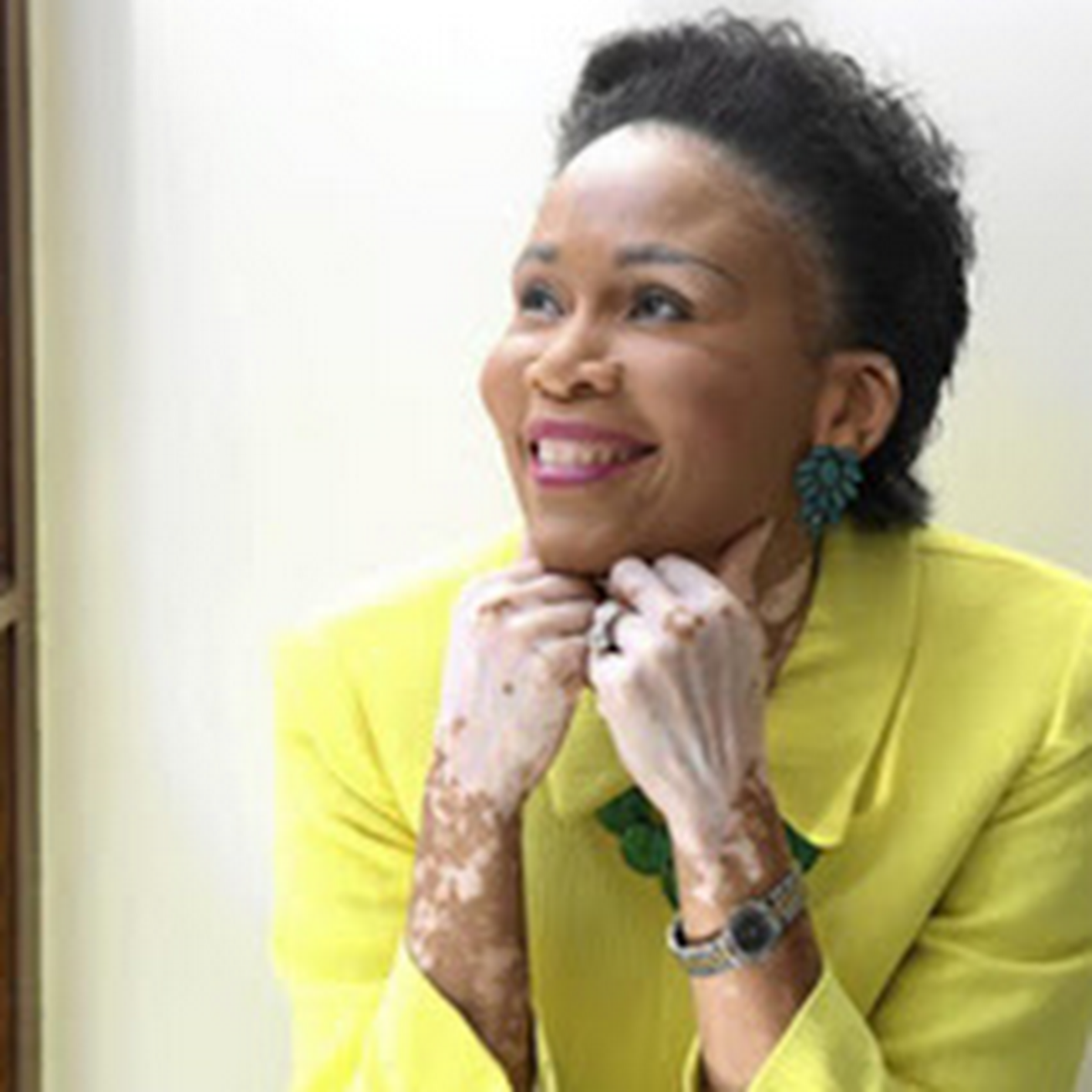 The world celebrates Vitiligo awareness day every year on 25th June. Although about 1% of the entire population is affected by this condition, there is a lot of ignorance about the condition, which results in stigma and bullying.
In summary, vitiligo is a skin disorder that results from a lack of melanin and causes the skin to lose its colour. A person with vitiligo may develop white patches on any part of their body or hair, and although this condition can affect people from all races, it's often more prominent in people with darker skin.
Here is a list of South African celebrities with vitiligo who are spreading awareness about vitiligo and inspiring other South Africans with vitiligo to proudly embrace their skin.
Leleti Khumalo
The Sarafina star, Leleti Khumalo, is one of the South African celebrities with vitiligo.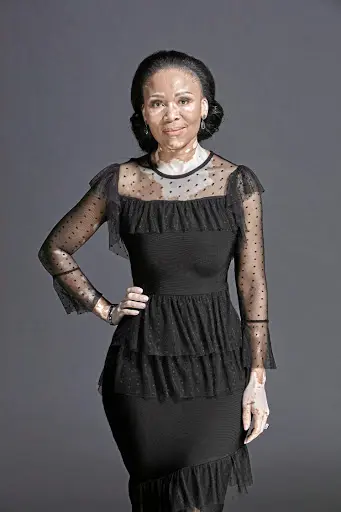 Leleti Khumalo, who has now fully embraced her condition, developed vitiligo at a young age, although she concealed her white patches with makeup for a long time.
Speaking to The Drum in a past interview, the veteran actress revealed that she had to hide her condition given that the acting industry is all about looks and conditions such as vitiligo are not often accommodated.
However, she finally accepted her skin and is currently one of the most vocal educators and activists who are working to create awareness about vitiligo in South Africa.
In 2018, Leleti Khumalo was the main cast in the popular eTV series Imbewu: The Seed. This is the first screen appearance that Leleti is showing off her real skin.
Kgothatso Iman Dithebe
This model and pageant queen is among the few South African celebrities with vitiligo who are proud of their skin.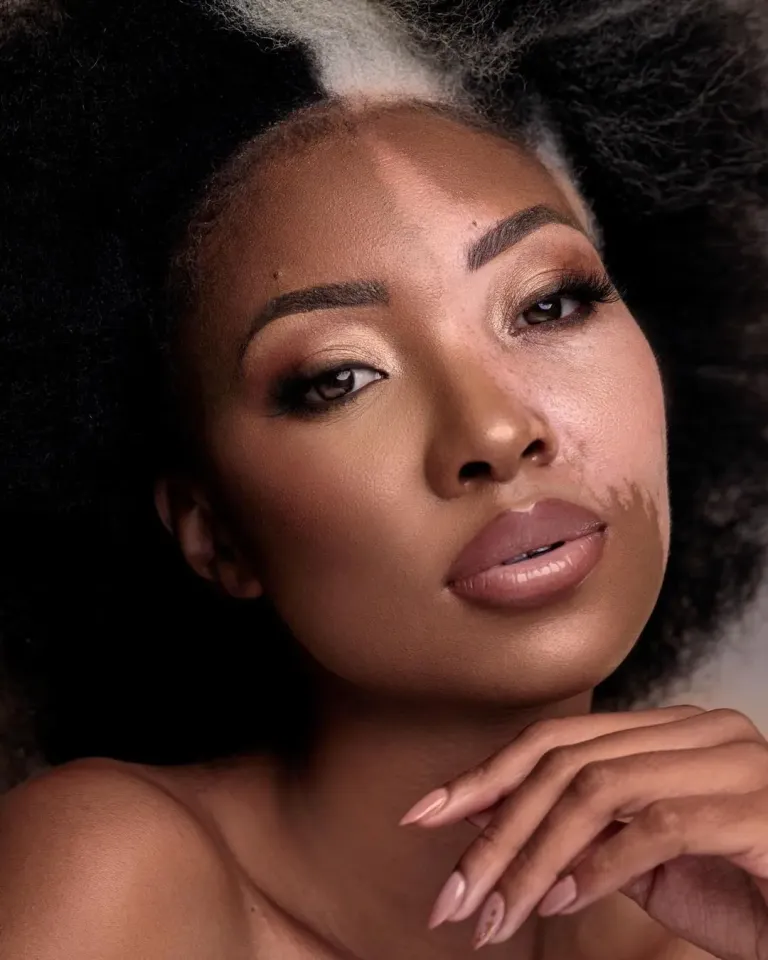 Kgothatso, who is sometimes referred to as a model with a mark, was consistently bullied as a child for the prominent mark on her face and hair. Little did the bullies know that her mark would be her money-maker.
In 2019 and 2021, Kgothatso participated in the Miss SA competition and made it to the top five finalists. Her reason for participating was to inspire women everywhere to believe in themselves.
As the first-ever South African model with vitiligo, Kgothatso is doing a great job of creating awareness about vitiligo, and we couldn't be prouder of her.
Brighton Ngoma
Brighton Ngoma is an actor who is best known for his role as Quinton Nyathi on eTV's series Scandal.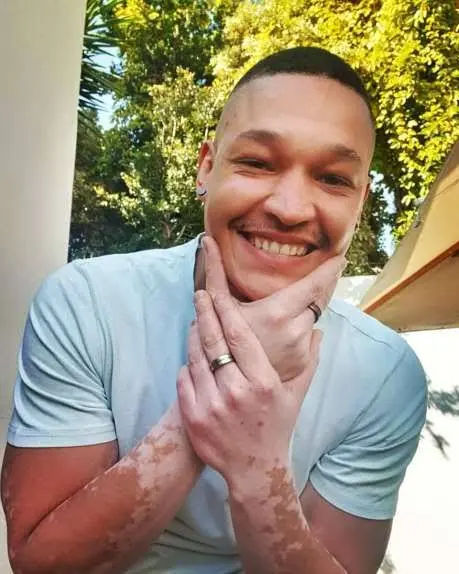 The actor is also among the few male South African celebrities with vitiligo who are open about his condition.
On 25th June 2019, Brighton Ngoma joined the world in celebrating World Vitiligo Day, disclosing that he had vitiligo on his arms and also clarifying that vitiligo is neither painful nor contagious.
In 2020, he also took to Instagram to inspire other people living with vitiligo to celebrate their skin and "ignite their inner bravery."
Chad Esau
Chad Esau is a male model who is making waves in the modelling industry for his unique skin. He is amongst the South African celebrities with vitiligo.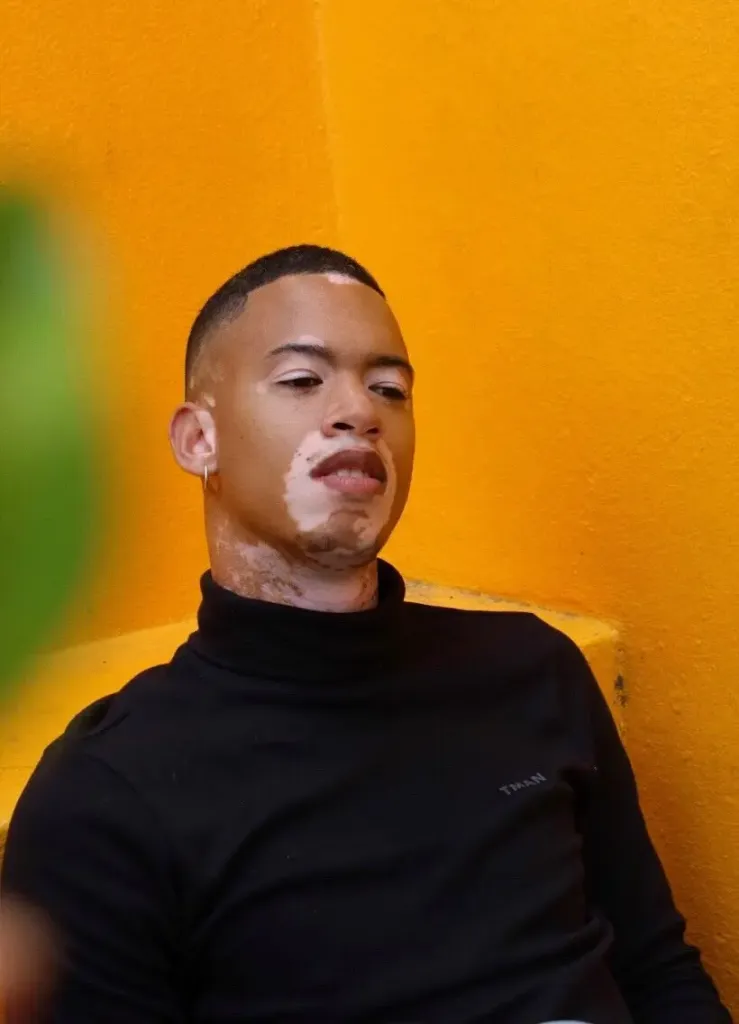 This handsome model was bullied as a child because his skin was different, and it really affected his esteem growing up but little did he know that he was a star destined to shine.
Chad Esau was discovered by a modelling agent when he was working at a coffee shop, and although he had never considered being a model, he took the opportunity when it presented itself.
In 2020, Chad Esau participated in the Mr South Africa competition. Even though his initial reason for participating in the contest was only to create awareness about vitiligo, he made it to the semi-finals.
Besides creating awareness about vitiligo, Chad Esau is also an ambassador for Project Brave Heart, an anti-bullying movement.