Lerato Kganyago received a R5.2 million car in addition to a hotel on Valentine's day – VIDEO
Lerato Kganyago received a R5.2 million car in addition to a hotel on Valentine's day – VIDEO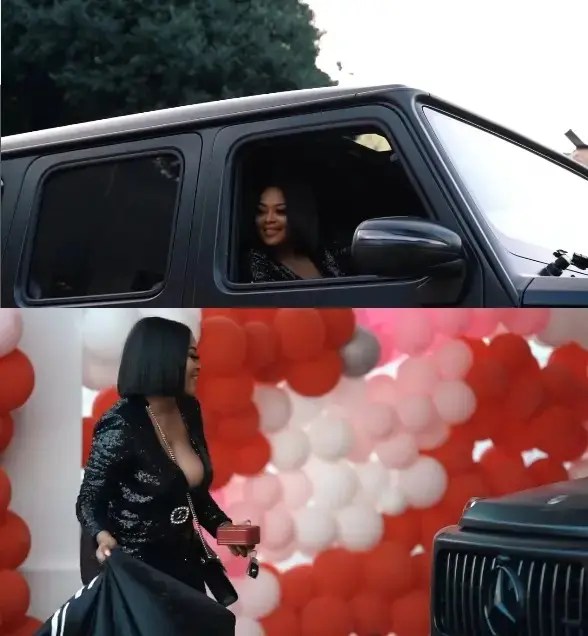 The queen of valentines, Lerato Kganyago, once again shuts down this year's Valentine's Day with her husband multi-millionaire Thami Ndlala. Thami Ndladla proved to be the ultimate valentine's fiance after having Lerato's presents delivered with a group of helicopters. He spoiled her with expensive gifts, including a new hotel named 12 on Hillel Villa and Spa, a restaurant called AMOR, meaning Lerato, Thando, Love.
Famous for going all systems out to make sure that every Valentine's Day is a memorable one, Thami Ndlala once again spoiled Lerato with expensive wheels valued at R5.2 million. In a video published by Lerato on social media, Thami held the blindfold Lerato towards a balloon filled and wrapped R5.2 million Mercedes-Benz G550.
"Absolutely everything," award-winning television personality Ayanda Thabethe gushes over Lerato's valentine's gifts.
Actress Winnie Ntshaba who plays the role of Faith Zwide on House of Zwide and Lerato's industry sister, laments that her pure heart deserves every good thing coming to her life.
Lerato was previously spoiled with a mother of all Valentines in 2021 when her husband booked a 94,736 capacity FNB or Soccer City stadium for Valentine's celebrations. He filled it with 30 000 red roses, champaign and a live band concert; the moment goes down in South Africa history books as the most public romantic date ever held. In 2021, Thami spoiled her with a fleet of super and sports cars, high-value assets, and jewellery.
Speechless, Lerato was dazzled as helicopters flew above her mansion; speaking on how Thami works hard to impress her, she revealed that the couple had been trying for a baby for a long time.
"God knows our hearts, with all the gifts you shower me with, I pray one day I will be able to gift you with one (child) we have prayed for.