Legendary musician Dan 'Ganda Ganda' Nkosi ventures into politics
Legendary musician Dan 'Ganda Ganda' Nkosi ventures into politics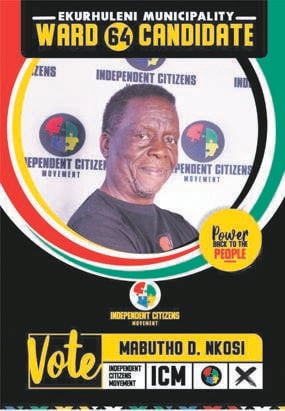 Legendary musician Dan "Ganda Ganda" Nkosi has entered politics.
He has joined the Independent Citizen Movement and is campaigning to be elected as councillor in ward 64 of Ekurhuleni.
The popular 1990s musician, known for hits such as Ganda Ganda, Wash' Umkhukhu and Pikinini, said he gave up music as he was not getting gigs and was broke.
"Everything was fine until Lucky Dube passed away. I worked with him for years. We toured the world together and made a lot of money," he said.
"Unfortunately when he died, my music career also took a nosedive. I was no longer getting as many gigs."
Dan said he tried getting help from the government, but with no luck.
"The last time I released music was in 2017 when I released a song called Land of Plenty.
"It's a reggae song and it gets played on the radio. I know this because I'm getting royalties from Samro but unfortunately, it's not enough money.
"This is why I'm venturing into politics," he said.
Dan said although he was broke, he was not giving up on music.
"This is not my final goodbye.
"It's just that I'm broke and I have no money to record in the studio. If I get money, I will go back to music but I will not forget my duties as a councillor," he said."I decided to join politics because I want to see change in the arts industry. The current government has failed to take care of artists.
"This is because artists don't have a voice within the structures of government," he said.
"My presence will ensure that artists have a voice and get what's due to us. I will not only focus on artists' rights, but I'll also ensure that service delivery is brought to the people."