Lasizwe's New Bae Brings Him To Tears On A Date – VIDEO
Lasizwe's New Bae Brings Him To Tears On A Date – VIDEO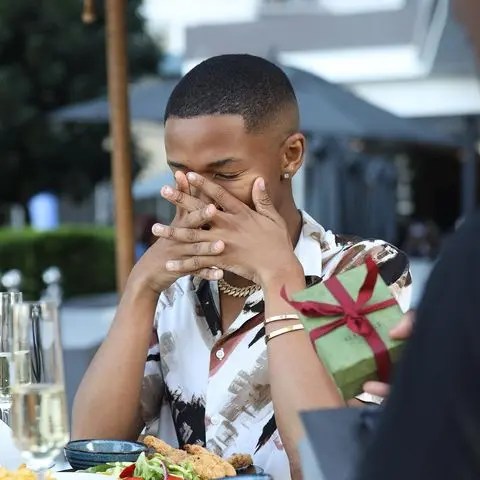 There is no better way to spend Valentine's Day than with someone you love. Reality show star Lasizwe Dambuza seems to have already found his Valentine's date and we are here for it.
Lazizwe has captured the hearts of many people with his loveable personality and his willingness to talk openly about even the most private aspects of his personal life. His love life is always a major topic amongst his fans, and when he shares that he is in love, they cannot be more happy for him
His bae has already set the bar high for most SA men to show them how to spoil their bae's on Valentine's Day.
Taking to his Instagram account, Lasizwe posted a video that melted the hearts of many people. We can't help but to cry when we watch this video because it's so beautifully shot and it proves just how beautiful love can be.
Lasizwe can be seen out with his new bae enjoying lunch together when his bae gives him a gift and it brings him to tears. He penned a heartfelt gift card to Lasizwe that even made everything more special.
"I hope your Valentine's is too perfect. Like you, hope you enjoy the series of cards I wrote for you and enjoy" reads the card. Love definitely lives here and we approve.
If you recall, Lasizwe was head over heels in love last year with his ex-boyfriend.
The two used to serve major couple goals but their relationship ended in premium tears. This came shortly after coming back from a Valentine's weekend gateway together. According to Lasizwe, he dropped him off at the airport to catch a flight to Cape Town, but in a twist of events, he later bumped into him at Great Dane in Johannesburg. Lasizwe then decided to dump him but we happy now that he is finally back in the dating game.
Lasizwe has been sharing lately how he feels he is ready to become a father. He recently revealed one of his weirdest fantasies which involves getting a woman pregnant. "I actually want to sleep with a woman and get her pregnant," he said.
"I don't want it to be a regular thing, I just want to go to penalties. I don't want it to be recurring, I just want to go to penalty, shoot, score and be done," he said. Lasizwe said he wants to have mixed raced children, "I want my child to be mixed race, like the most beautiful child. I want to create a Coloured. It is so nice I always have this fantasy of my child saying 'my dad is South African and my mum is Russian or my mum is from New Zealand.' And my child has hazel eyes or blue-ish, greenish eyes and has curly hair. I stalk Takkies a lot…her children, I could steal her children," he said.
Recently he shared how he is a sucker for love and asked his fans if he should show off his new bae.
Guys I'm so considering posting my partner, should I? Yes or no? I know some of you guys are going to say are forgetting what happened last year?
"Last year is last year guys and one thing about me – I believe in indoda and I will die on a hill for Indoda soo should I do?" He said on his Instagram stories. Will we see on Valentine's Day perhaps? We all hope so because wow, sweerie is totally smitten with him.