King Zwelithini third wife Queen Mantfombi Dlamini-Zulu takes over the Zulu kingdom
King Zwelithini third wife Queen Mantfombi Dlamini-Zulu takes over the Zulu kingdom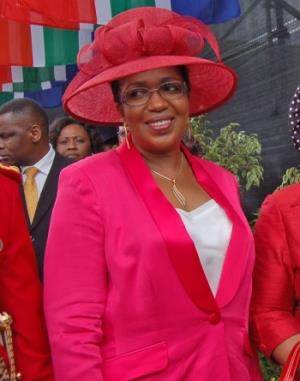 The third wife of King Zwelithini, Queen Mantfombi Dlamini-Zulu has been appointed as the interim leader of the Zulu nation.
This follows after the death of King Zwelithini last week.
Queen Mantfombi is the mother of prince MisuZulu, and according to insiders, he is the one in line for the throne next.
Insiders also told Daily Sun that the appointment of Queen Mantfombi was revealed during King Zwelithini will read that was held last week on Thursday night at the KwaKhethomthandayo royal palace after the memorial service.
Queen Mantfombi is the daughter of late King Mswati II and the sister of the current Swatini king, King Mswati III.
The insiders further reveal that Queen Mantfombi who also known as the great wife was appointed because among King Zwelithini wives she is the only who has royal blood and the king's successor will come from her.
"Lobola for Mantfombi was paid by the Zulu nation because she is from the eSwatini royal house. Even back then the king always came from the queen who has royal blood and her lobola was paid by the nation.
"She has eight princes but as per Zulu culture the first one who is MisuZulu will be the next king that why king Zwelithini appointed her to be interim while she is preparing her son".
Zulu monarch Prime minister Prince Mangosuthu Buthelezi released the statement on Sunday, 21 March about the succession matters.
He said in order to keep the nation abreast of matters related to the succession of Zulu Monarch, the Royal Family has requested an urgent senior's member meeting.
"A meeting of senior members of the Royal Family was held at KwaKhethomthandayo Palace on Saturday where various matters were discussed, including matters related to His Majesty's will.
"It was decided that a meeting will be held on Wednesday morning with His Majesty's lawyers. This is where the matter stands at present. Further updates will be provided after Wednesday's meeting" Buthelezi said.