King Monada And Wife Celebrate A Huge Milestone
King Monada And Wife Celebrate A Huge Milestone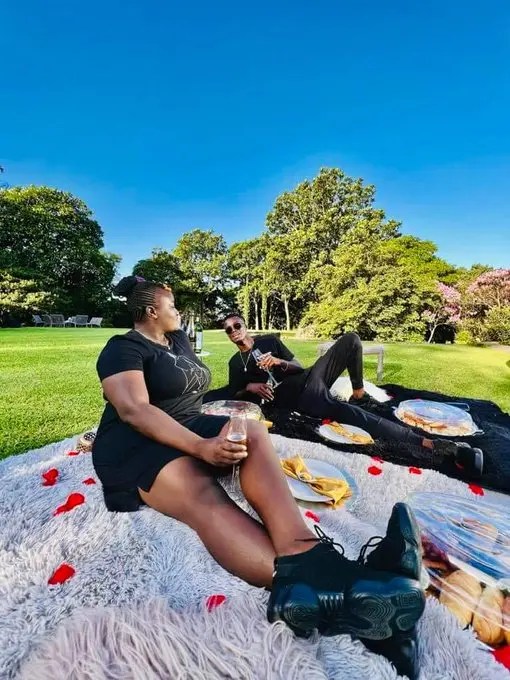 King Monada made headlines a few years back for his unconventional home life, as he was reported to have two wives. He is said to have kicked the second wife out of his home, and now he is celebrating ten years with his first wife.
The Malwedhe hitmaker recently took to Twitter to celebrate the huge milestone in his family life. He shared pictures of him with his wife Lerato Ramawela on a picnic together. He expressed gratitude for the decade they have been together, and said he cannot wait to celebrate more decades together.
Fans poured into his comments to congratulate him and his wife on their big milestone. It is not easy to live that many years with the same person and still have the same love and respect for them that you had at the beginning, possibly more.
Even Lady Du commented on his Instagram post, saying she has gained a lot of respect for him following that post. "You have earned soooo much respect from me, most men change when they get things!!!! I'm happy and proud of you may God continue to bless your union ♥♥♥♥", she wrote.
But a few fans were confused in his comments section. Just a few months ago, in November, he made a very sweet Instagram post wishing "someone he loves" a happy birthday. Now, he comes to celebrate ten years with his wife, but it was not the same woman in both photos. What gives? They wondered.
According to those who are more up to date with the singer's personal life, he has three wives. The one he posted about in November is the second one, Cynthia Leon. Just a few years back, King Monada was reported to have kicked her out of their house. Rumour had it that she had been nagging him about coming home late, which those around him felt was very impractical as he is a musician and a performer, and his job literally requires staying out late for gigs.
Well, it looks like she came back at some point, and also like they have a child together now. He was also reported to have a girlfriend, who both his wives knew about. Did they have no problem with it? Many wondered, but King Monada tends to keep his family life largely out of the spotlight.
As you can imagine, he has become an icon amongst his fellow men. They think it is such a boss move to have two wives and a girlfriend, and that it shows complete dominance since all three women are comfortable with their place in his life.