King Misuzulu wants all Zulu artefacts kept by Britain to be brought back home
King Misuzulu wants all Zulu artefacts kept by Britain to be brought back home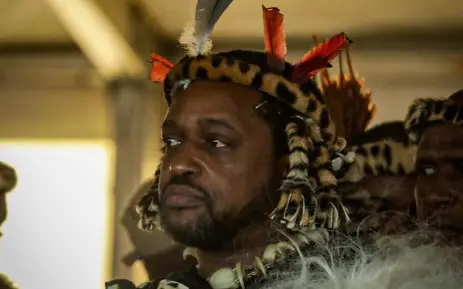 Almost 145 years after the destruction of Ulundi and some artefacts taken to Britain, the current Zulu King is seeking redress that will see the artefacts returned to South Africa.
King Misuzulu ka Zwelithini says these artefacts are treasured and Britain should return them to the Zulu kingdom as it was agreed a few years ago.
In a statement on Tuesday, the King's spokesperson, Prince Africa Zulu said the matter was raised in Gauteng when King Misuzulu met with Antony Phillipson, the British High Commissioner in South Africa.
The two met and discussed several matters which includes cooperation for development and then the matter came up.
Ulundi, the traditional capital of the Zulu kingdom was destroyed on July 4, 1879 when the imperial British army overran Zulu defences and burnt it down.
NEWS: While in Gauteng, King Misuzulu met with British High Commissioner to SA, Antony Phillipson. He told Phillipson that he would like to see Britain return all the Zulu artifacts that were stolen from Ulundi when the British army overran and destroyed the Zulu capital. @IOL pic.twitter.com/fBp78hoDxs

— Sihle Mavuso (@ZANewsFlash) July 19, 2023
It was an act of vengeance after the Zulu army humiliated the British army at the historic battle of Isandlwana on January 22, 1879.
During the burning of Ulundi, several treasured Zulu artefacts and a special assegai of the late King Cetshwayo were taken away and stored in museums in Britain.
King Misuzulu now wants them all returned to the shores of his kingdom.
"Importantly, the King has also expressed the importance of discussions to ensure the return of colonial-era artefacts that were stolen from Ulundi after the Battle of Isandlwana.
"For instance, King Cetshwayo's barbed-headed assegai, Zulu war shields, the King's headdress and other items are displayed at Wales Military Museum," Prince Africa said.
The King said this will close a long chapter on the matter.
"Returning these will help close a sad chapter, promote people-to-people contact and harness the cooperation of business in private-public partnerships for nation-building.
"We recall that in 2017, the people of KwaZulu-Natal bid farewell to Zulu Warriors who attended the 135th King Cetshwayo Celebrations in Cardiff, Wales in the United Kingdom.
"The Zulu warriors were accompanied by the cast and the Zulu Royal Choir and participated in the re-enactment of the Battle of Isandlwana."
He said there is already an established relationship between the Zulu and British people as it was seen in recent years.
"The participation of the Zulu Warriors in the King Cetshwayo Celebrations in the UK strengthened cultural ties between the people of KwaZulu-Natal and the United Kingdom.
"Critically, in November 2011, His Majesty, King Goodwill KaBhekuZulu hosted Prince Charles, Prince of Wales and Camilla, Duchess of Cornwall."
He added the commemoration of the battle is no longer about hostilities, but about cementing ties.
"We hold this event every year in January.
"Over the years, it has grown to be more than just a battle re-enactment but a celebration of diversity, and a great contributor of tourism revenue to the this province."