Julius Malema says he'll send Cyril Ramaphosa to prison if he becomes president
Julius Malema says he'll send Cyril Ramaphosa to prison if he becomes president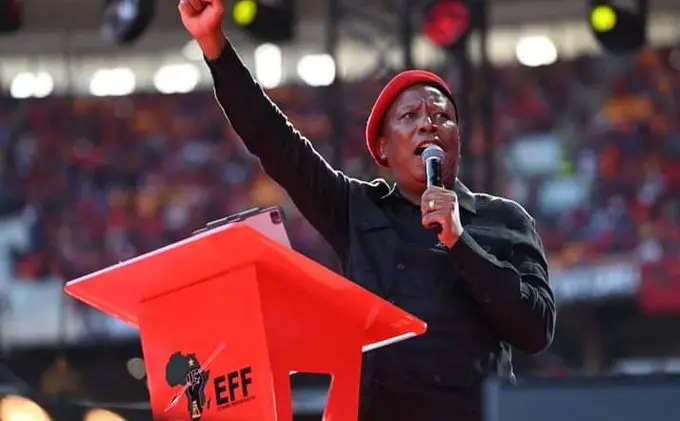 EFF leader Julius Malema says the first thing the party will do if it wins next year's elections will be to send President Cyril Ramaphosa to prison for all the crimes he has allegedly committed.
Malema was speaking at the fully packed FNB Stadium on Saturday during the party's 10th birthday celebration.
"We will take him to prison and they will see what they will do with his ugly nose in prison. He is a thief and he killed people in Marikana and he was never arrested," he said.
"He stole money from South Africans and he was never arrested, he sleeps on top of dollars and he never gets arrested. Ramaphosa is not above the law, he will go to prison whether they like it or not."
Watch: Malema on Ramaphosa
#malema on president #Ramaphosa pic.twitter.com/BKQfO7taB2

— Lunga_mzangwe (@lunga_mzangwe) July 29, 2023
Malema also took a swipe at the new crime prevention wardens, accusing them of being hired because they were ANC campaigners.
He said if the EFF takes power next year, they will fire all the wardens as they were hired illegally.
"They are hired because they are campaigners of the ANC. When you meet them in those overalls, tell them it's finished, the EFF is coming next year," Malema said.
He also accused Gauteng Premier Panyaza Lesufi of using the Nasi Ispani initiative as bribery for young people to vote for the ANC.
"Panyaza Lesufi took people to Orlando Stadium a day before yesterday thinking that he can contest us. He's a small boy… he doesn't know anything," he said.
"He took our children to the stadium to give them papers which do not deserve to be in the hands of our children. He was humiliating them saying he will give them a stipend – it's not a stipend, it's a bribery so that you can vote for the ANC. We don't want a bribery, we want the land, we want jobs and we want them now."
Watch: Malema speaks at EFF 10th anniversary celebration