Jub Jub's girlfriend breaks the internet – Photos
Jub Jub's girlfriend breaks the internet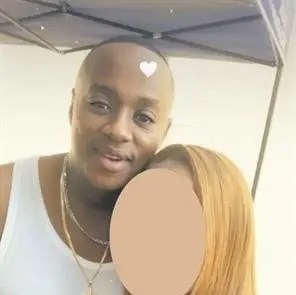 Snaps of Jub Jub and his fiancé have gone viral and the funny memes are continuously rolling in. For the longest time, reports have suggested that Jub Jub is married to an Italian Cape Tonian named Zenith 'Zee' Mia.
We are not certain if the woman is indeed Zenith but pictures have circulated of a different woman, who is apparently his fiancée.
Jub Jub with his white girlfriend. pic.twitter.com/JqGHf2zumr

— Musa Khawula (@MusaKhawula) August 6, 2022
Here are some of the reactions from tweeps:
Jub jub during sex: https://t.co/O11EATGrpQ pic.twitter.com/59S4ZlsTVG

— Herbalist 🥦🥦 (@_realeboga) August 6, 2022
Bare motho wa Jub Jub o dula danville? 😭😭

— 𝐍𝐞𝐞𝐥𝐨 (@Dedication_N) August 6, 2022
Way much better
Congrats to Jub jub for Securing himself a peace of mind https://t.co/8ciCXMedQb

— 🇿🇦TAPstarica🍑🍆 (@TpTapout) August 7, 2022
Jub jub & Marshmallow https://t.co/6tD0xEpwG8

— Teeee (@_pengtee) August 6, 2022
Jub jub looks like his tired of speaking English pic.twitter.com/jNPwuAmOgl

— Ape de kok (@SameDeon) August 6, 2022
A little about Zenith, who stole Jub Jub's heart, she is reportedly a director of a music and entertainment firm based in Jo'burg called Rare Breed Entertainment. They are also apparently business partners.
Jub Jub has been vocal about his relationship with his bae Zenith Mia and even openly spoke about her in interviews.
In one interview in 2018 he was a guest on Metro FM's 'The Drive' and he spoke about how she has held him down through thick and thing, "She was there before, she stood out through my prison term, through the trials and tribulations, she never judged me, she never cursed me, she never looked at me in a different kind of way," revealed Jub Jub. "She's not there for the fame, she's not there for the money she's not there for anything, that's why y'all haven't seen her."
In another more recent interview with Speaking to Slikour On Life a few years ago, he said the person behind his swag is his wife. When he came out from prison, he asked her to style him since he did not know anything trendy at the time, "I talked to my queen at the crib, who is really stylish, and I asked her to upgrade me but asked her to please not make me wear these new 'confusing' trends,"
"I was really surprised because I came out, I still remembered the difference between slim jean, skinny jean and tights. Now I come out and guys are wearing tights. The shirts are different, I mean guys are wearing skirts. I mean I've only been away for 4 years, so I was just confused. A lot has changed," he said.