Joy as Babes Wodumo and Mampintsha's mom reconcile – Photos
Joy as Babes Wodumo and Mampintsha's mom reconcile – Photos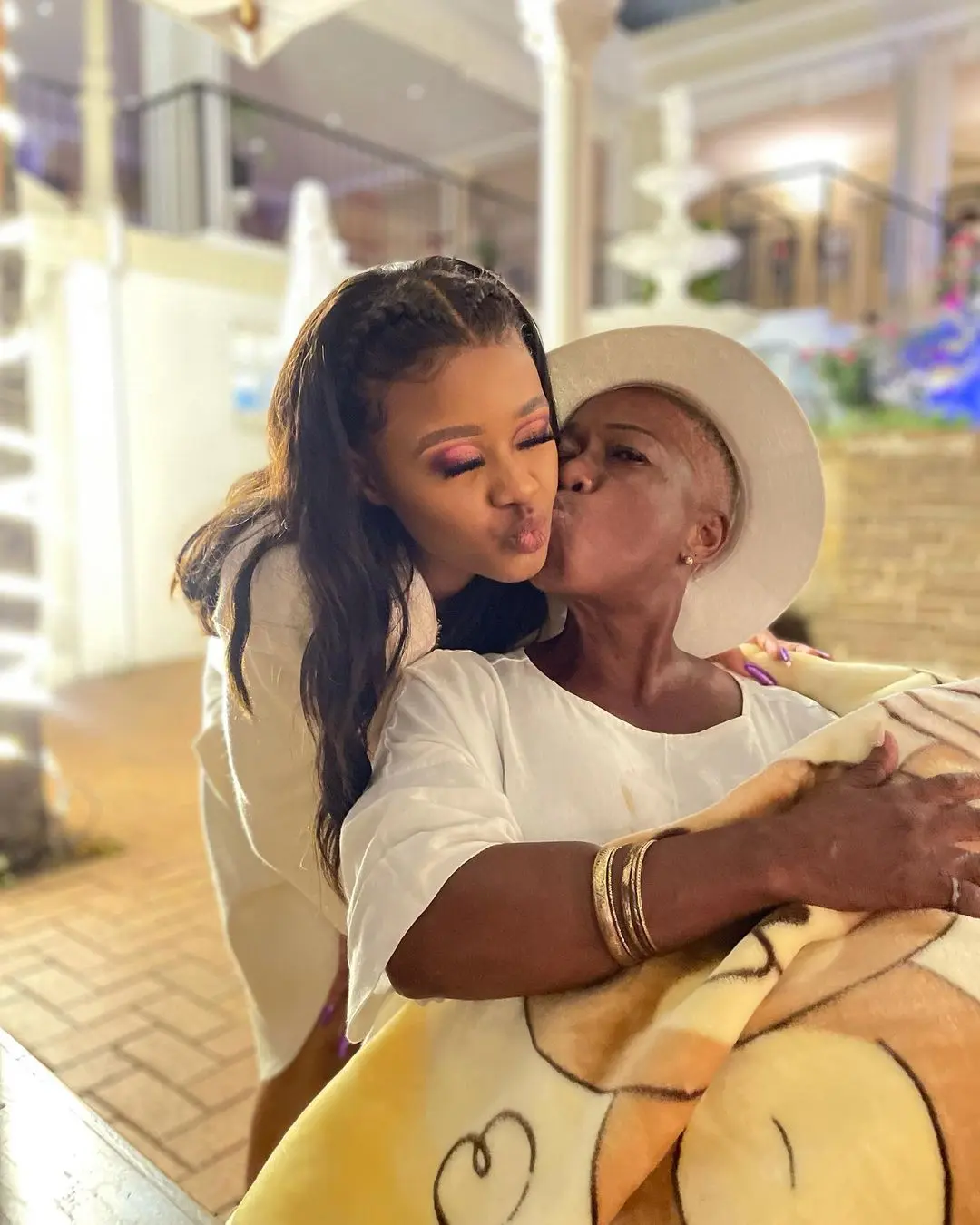 Mother and daughter-in-law's fight seems to have gone under the bridge! They've had a relationship fraught with plenty of dirty laundries. But it seems that Babes Wodumo and her mother-in-law Zama Gumede have buried the hatchet…for now at least
The Gqom singer and the mother of her husband Mampintsha posed for a surprising social media snap, posted on the music producer's Instagram account.
And by the looks of it, Zama has also met her grandson, Sponge Wodumo.
In a picture posted on Mampintsha's Instagram account. Zama Gumede is seen planting a kiss on the cheek of her daughter-in-law Babes.
Zama also appears to be carrying Sponge in her arms, who is shielded by a blanket.
Mampintsha captioned the image with a heart emoji, and wife Babes jumped in the comments section to do the same.
Fans of the couple are happy to see peace reign in the family, for a change.
Comments from Instagram followers read:
"This is beautiful. Family over everything"
"Siyabonga that they have reconciled with each other"
"This is good to see. I wish they can continue like this and learn to respect one another"
Whilst Babes and her mother-in-law are now on a good rapport, it definitely has not always been the case.
Last year alone, Zama Gumede accused Babes of "faking" her pregnancy, "disrespecting" her and "controlling" her son, as well as "excluding" her from the couple's wedding preparations.
She said in a video that went viral: "Maybe she is going to give birth to a cat, I don't know. I don't want this woman who got married to Mampintsha and I am saying this in public".
Babes hit back at her mother-in-law by accusing her of being a "drunkard" and threatening to press charges against her.
In a viral video of her own from December 2021, a seemingly intoxicated Babes is seen and heard trashing Zama Gumede.
In the clip, the star accused the woman of "abandoning" Mampintsha when he was just three days old
Apparently Mampintsha's mother made a video of herself about her dissapproval of the marriage ,in the video she even insults babes wodumo saying "akamfuni lapha" pic.twitter.com/iptVE57B1I

— Bophela🙌 (@PhilaNgidi_) April 27, 2021
Kodwa u Babes Wodumo isbindi esingaka usithathaphi😭😭😭😭 pic.twitter.com/WNHVUxDW03

— Balondiwe🌸 (@Londi__we) December 9, 2021
With their fraught history, we have to wonder, how long will the new love last?