Jacob Zuma's wife MaNtuli who was arrested for poisoning him exposes all in dramatic twist of events
Jacob Zuma's wife MaNtuli who was arrested for poisoning him exposes all in dramatic twist of events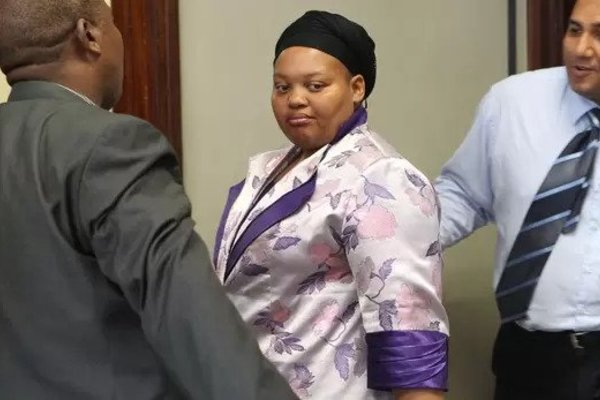 Nompumelelo Ntuli, the wife of former president Jacob Zuma, has spoken out about the trauma she suffered in the hands of spooks who held her against her will because she was suspected of poisoning her husband.
Ntuli, speaking through her lawyer, Ulrich Roux, yesterday said the incident had weighed heavy on her shoulders for more than four years after "contracted henchmen and private security guards" of the former president detained her without due process.
Roux said she felt vindicated by the testimony of State Security Agency (SSA)'s acting director-general Loyiso Jafta on Tuesday, which exposed what she went through at the hands of spies who held her hostage while investigating her. He said Ntuli had had to "endure a lot of emotional strain from this matter."
"What she went through was a traumatic experience for her. It was a weight on her shoulders for four years, in fact it was almost five years… (the) testimony confirmed that she never had any involvement or any knowledge of a so-called plot to kill Jacob Zuma," Roux said.
"Obviously at the time she was held against her will, it was an infringement on her rights to freedom, to liberty and she' sa strong woman who endured it at that stage. She can't wait to move on."
Jafta told the commission of inquiry into state capture that Ntuli was treated this way because she was suspected of poisoning Zuma in 2015.
She was also apparently accused of being involved in a plot to poison Zuma and as a result she was banished from Zuma's Nkandla homestead and held hostage by members of the SSA who investigated the matter.
Roux said Ntuli was always of the opinion that the SSA had gone beyond its mandate in how they treated her.
"My client has been vindicated… it was confirmed (in Jafta's testimony) that the SSA went far beyond their call of duty, they were basically regarded as contracted henchmen and private security guards for Jacob Zuma during his presidency," Roux said.
Jafta told the commission this week that the intelligence agency was used for Zuma's own domestic issues. He said the alleged poisoning of the former president was investigated by SSA and at a certain stage, the agency had people guarding Ntuli .
"In essence… Mrs Zuma (Ntuli) was in the custody of the SSA. She was in remand detention without having gone through due processes. I absolutely believe [she was kept against her will]. There is sufficient evidence that points at being disagreeable to the circumstances she found herself in," Jafta said.
MaNtuli had, about two years ago, indicated that she would be suing the National Prosecuting Authority for having pursued a "malicious prosecution" against her but Roux said she had now changed her mind.
In 2019, the NPA said it would not be prosecuting anyone for these allegations due to lack of evidence.
"She has decided that she wants to carry on with her life and leave this behind her… she doesn't want to continue with it. She doesn't want to pursue anything at this stage. She might change her mind later on but at this stage she's just tired of the whole incident,"
Roux said MaNtuli felt she had now been vindicated in public.
"Her dignity has been restored and she doesn't wish to pursue any of the tragic occurrences that happened in the past."