president Jacob Zuma fumes – I won't go to jail
president Jacob Zuma fumes – I won't go to jail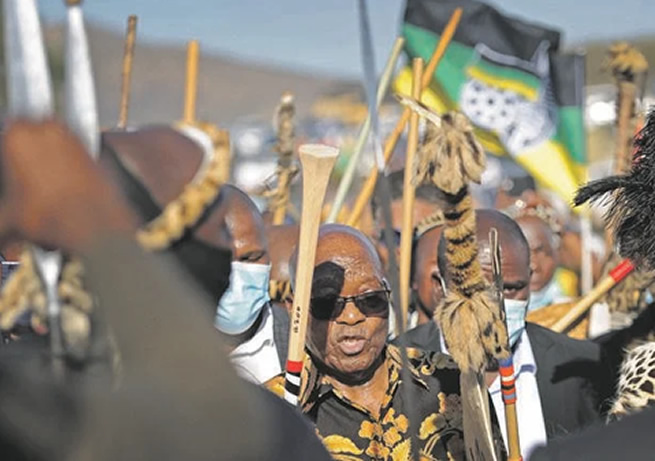 Former president Jacob Zuma has told supporters gathered at Nkandla he will not hand himself over to begin the 15-month sentence handed to him this week.
Zuma struck a defiant note in a brief address in isiZulu to supporters outside his Nkandla homestead, some of them threatening war if police moved to arrest him.
But in a surprise development, the Constitutional Court said yesterday it would hear Zuma's application to ''rescind" its ruling on July 12, which gives him breathing space in his bid to avoid jail, part of a years-long ''Stalingrad strategy" to avoid accountability for alleged corruption and state capture.
In a leaked video, Zuma addressed the
Amabutho (warriors) and other politicians inside the cattle kraal at Nkandla.
"They want me to go and serve time in jail for 15 months. I don't know what I have done wrong. I did not hear them [say what I have done wrong]," said Zuma to his supporters.
''My lawyers said they will write to them legally to challenge the sentence. I am not sure where that [process] will end up but where it is going to be difficult is if they say I must go to jail having done nothing wrong. [Imagine] me voluntarily going in," he said, laughing sarcastically, and the crowd laughing with him.
Zuma said this showed him "that the leaders do not know how to govern and how to handle the law. When you are given responsibility to lead, you do not take that lightly because what will happen is it will cause huge havoc in the land."
Zuma continued: ''I told them they will regret it one day. What we are doing [in this country] is unprecedented. There is no country that has come forward and said it would subject itself to being investigated. If you do that, then you do not know how countries work. Every country has its secrets.
''I don't know what the lawyers will say, but when we come to the end I'll take my decision. I'm not afraid to take a decision."
The Constitutional Court yesterday set a date for next Monday to hear his application to reverse its order. The order was for defying an earlier court order by refusing to testify at the Zondo inquiry into state capture.
In another development, the ANC has dispatched some of its top brass to KwaZuluNatal to ease tensions.
ANC national spokesperson Pule Mabe yesterday told the Sunday Times that national executive committee (NEC) members such as police minister Bheki Cele, transport minister Fikile Mbalula, suspended health minister Zweli Mkhize and minister of co-operative governance & traditional affairs Nkosazana Dlamini-Zuma had been sent to the province to help "quell the fires".
"You could say it is to quell the fires but also to get to understand how the province is dealing with the situation on the ground,"
said Mabe. Zuma's appearance at Nkandla was his first in public since the ruling on Tuesday.
Suspended ANC secretary-general Ace Magashule also arrived in Nkandla yesterday to lend support to his political ally.
Those privy to discussions said the ANC KwaZulu-Natal chair, premier Sihle Zikalala, and provincial secretary Mdumiseni Ntuli had been in talks with Zuma this week, including on Friday and yesterday. The Sunday Times understands that provincial leaders have also been talking to party structures to dissuade members from participating in gatherings meant to defy the state.
The ConCourt's directions yesterday followed two urgent court applications on Friday by Zuma: one to the Constitutional Court for a "rescission of judgment" — to reconsider and reverse its earlier judgment — and one to the Pietermaritzburg high court to stop the police arresting him pending the outcome of the ConCourt case, and a constitutional challenge to the law on contempt.
The ConCourt said it would hear his case on July 12. Zuma has asked that the Pietermaritzburg high court hear his application on Tuesday — the day before police have been ordered to arrest him if he fails to turn himself in. The directions of the ConCourt do not suspend its earlier order but they may boost Zuma's chances of avoiding arrest this week. The police and president have already indicated that they will abide by the decision of the high court.
However, the state capture commission and its chair, acting chief justice Raymond Zondo, filed a notice that they will oppose his application. And, though Zuma claimed in his court papers that the high court has "inherent powers to enforce or stay the execution of any order of court, even the order of a higher court", if the high court does not agree that it has jurisdiction, it may decline to grant the order.
In Zuma's ConCourt application he asks the court to look at whether it had, when it came to its decision,•"acted within the constitution, or erroneously, beyond the powers vested in the court by the constitution".
He says his non-participation in the case that ended with his contempt conviction was not "some calculated disdain" for the ConCourt, but that financial hardship had driven him to be selective about which court cases he put resources into.
Zuma also says he re-examined his public statements made ahead of the Zondo commission's approach to the court, in which he had attacked some of the judges of SA, saying they had "sold their souls" to vilify him.
"Those were my views and I should not be imprisoned because I held a wrong opinion or view or belief."
He says he is a "79-year-old man who suffers from a medical condition that requires constant and intense therapy and attention". In the context of the "deadly pandemic", this was one of the many reasons he should not be imprisoned. He argues the judgment was "erroneous" because it breached his constitutional right not to be detained without a trial.
However, the fundamental principle in law is that once a court has given judgment, that is the end of the matter and it cannot reconsider. The rationale behind this is that — as the ConCourt said in a 2015 ruling — "the rule of law and legal certainty will be compromised if the finality of a court order is in doubt and can be revisited in a substantive way".
As the legal stakes were raised, political tension heightened, with Zuma's supporters threatening violence should he be sent to prison. Party insiders said the intervention by Zikalala and Ntuli is key to the party attempts to prevent violent confrontation between Zuma's supporters and the police.
"The idea is to engage the old man so that you find a solution that does not lead to an unnecessary standoff between law enforcement officers and citizens," said an NEC member privy to the discussions.
Zuma's backers plan to exert pressure on the ANC to find a political solution to his legal woes, including asking the next meeting of the NEC — due to start on Tuesday — to petition President Cyril Ramaphosa to grant Zuma a presidential pardon. But Mabe said there is nothing the ANC can do about the ConCourt ruling.
"Once the ANC interferes with processes of the courts then we will create an unsustainable precedent … our courts need to maintain their independence," he said.