Its OVER! Thami Ndlala crying uncontrollably as Lerato Kganyago dumps him
Its OVER! Thami Ndlala crying uncontrollably as Lerato Kganyago dumps him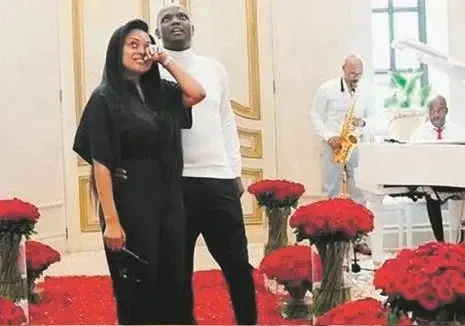 Reportedly, it has ended in tears as Lerato Kganyago and her husband Thami Ndlala has finally called it quits. This comes after the reports suggested that Lerato Kganyago has left her marital home back to her own home following not seeing eye to eye with Ndlala.
Businesswoman and DJ Lerato Kganyago is reportedly single following a split from her husband which resulted in her leaving her Steyn City marital home only to return to her own house. According to MDN News, the Metro FM DJ has left her husband crying uncontrollably.Rumors around Kganyago and Ndlala's marriage have been reported to have been on the rocks for some time now. Despite the other rumors making rounds on social media about Kganyago possibly baking in the over, the marriage seems to be over.
"THE END: Lerato Kganyago has allegedly moved out of her marital home at Steyn City and has returned to her own house in Ruimsig, leaving her husband Thami Ndlala crying uncontrollably. The valentine couple has split. The marriage has been on the rocks for a while now" wrote MDN Newss
Although Thami Ndlala has been rumored to be involved in dodgy business deals which have resulted in his wealth status. Nothing concrete ever came out of those rumors. However, the claims leveled against them may just be the tip of the iceberg.
The report continues to mention that,
"Lerato allegedly came out in defense of the domestic worker, deposing her own police statement to the effect that the items to which her husband was referring to had not been stolen, but were rather given to the helper more than a year ago"
Reportedly by MDN Newss, according to a close friend of the couple, the arrest of the helper became the last straw for Lerato Kganyago to pack her bags and leave Thami Ndlala and his shady ways home.
"A friend of the couple said that the arrest of the domestic worker had pushed media personality Kganyago to boiling point. She has been working for her for over 10 years, long before she married Thami"
Both Lerato Kganyago and Thami Ndlala have not shared anything on their social media, surrounding their current situation.