It ends in tears of joy: Skeem Saam fans happy for Leshole (Thabo Mkhabela)
It ends in tears of joy: Skeem Saam fans happy for Leshole (Thabo Mkhabela)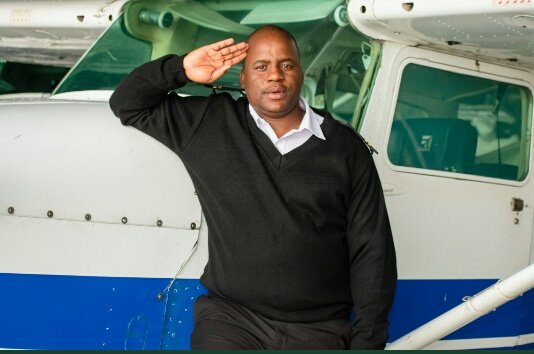 Skeem Saam viewers are over the moon now that Leshole is finally winning. The actor, played by Thabo Mkhabela on the SABC1 drama, has been struggling for a long time but the new pilot finally has a job.
He's joined the air force and is starting in two weeks' time.
Leshole applied for the job weeks ago but was rejected. He applied for the job so he could get more flying hours, which could qualify him as a commercial pilot.
Viewers were angry he was rejected and said the writers hate Leshole because they don't want him to win in life.
However, things changed on the episode on Tuesday, 8 June when he got a call to write a proficiency test because their system mistakenly sent rejection letters to all their applicants.
While the viewers were happy, they said the show's writers might disappoint them again. On Wednesday's episode, he went for the test and passed.
He was trending on the Twitter trends list, with people rejoicing that something good finally happened for Leshole.
The viewers said Leshole's storyline is close to their hearts because it feels like their own life stories.
Twitter user Nandira Zuri said Leshole's win felt like hers.
"Tears of joy when Leshole said he got the job and will be starting soon.
Leshole's win is my win," she said.
"I think most of us can relate to the life struggles and hurdles Leshole faces. His storyline is one of hope and triumph. A black child's true journey," wrote another user, Bobo Mhlanga.
"I don't know why Leshole's wins always feel like ours. It's beautiful to see," wrote Dedi Pohotona.
Tears of joy when Leshole said he got the job and will be starting soon. Lesholes win is my win #SkeemSaam pic.twitter.com/Oj1bGVnqny

— Nandira Zuri🌺 (@nandira_zuri) June 9, 2021
I think most of us can relate to the life struggles and hurdles Leshole faces… His storyline is one of hope and triumph. A black child's true journey #SkeemSaam https://t.co/dpz4yzEEaS

— Bobo Mhlanga (@BoboMhlanga) June 9, 2021
I don't know why Lesholes wins always feel like ours. It's beautiful to see #SkeemSaam pic.twitter.com/F0WEi8ttiZ

— Dedicate Pohotona (@Dedi_Pohotona) June 9, 2021
Let's gather here and celebrate ungenile Leshole 🥳🥳🥳🥳🎉🎊🎉🎊🎉🎊🎊🎊🎊🎉 party at my place #SkeemSaam pic.twitter.com/NcuHVntzvb

— Ngwane Dlamini (@VelenkosiniDlam) June 9, 2021