Inside Julius Malema's big birthday surprise
Inside Julius Malema's big birthday surprise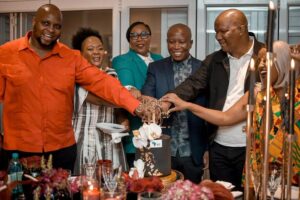 The last thing EFF leader Julius Malema expected during his court appearance in East London this week was for supporters to surprise him on his birthday.
Malema is appearing in the East London magistrate's court for allegedly firing an automatic rifle during the EFF's fifth birthday celebrations at Sisa Dukashe Stadium in Mdantsane in 2018.
During an adjournment for lunch, EFF supporters in the gallery stood up, holding placards wishing their leader a happy 41st birthday.
Singing and dancing followed as a cake was brought out and given to Malema.
[MUST WATCH]: EFF leadership surprising CIC @Julius_S_Malema as the court breaks for lunch.

CIC remains an anchor in our political journey towards reversing the gains of colonialism and achieving true freedom.

Happy Birthday President, o kgole o kgole Moshabi #HappyBirthdayCIC pic.twitter.com/3gdHtIC9dm

— Economic Freedom Fighters (@EFFSouthAfrica) March 3, 2022
Malema was all smiles as he recorded the birthday surprise and later held his cake. He also joined in the festivities.
We are confident that no racist agenda will succeed in destroying the EFF under your capable leadership Comrade President.

Happy birthday Moshabi! #HappyBirthdayCIC pic.twitter.com/lp8SwtfWbx

— Economic Freedom Fighters (@EFFSouthAfrica) March 3, 2022
"Happy birthday comrade president. Thank you for your brave and fearless leadership. It has meant so much to our organisation. We are proud to call you our CIC, you are an exemplary leader for future generations," the EFF wrote in a social media message.
Malema and the EFF shared birthday messages from celebs, including Oskido, Big Zulu, Uncle Vinny, Lvovo, Fifi Cooper and Spikiri.
Kalawa Jazmee boss OSKIDO wishing the CIC @Julius_S_Malema a Happy Birthday.

OSKIDO says it has always been the purpose of our President to lead, fight for and liberate the masses of our people. #HappyBirthdayCIC pic.twitter.com/jgLNp759wp

— Economic Freedom Fighters (@EFFSouthAfrica) March 3, 2022
Motswako's First Lady, the Boss Lady @FifiCooperFans wishing our CIC @Julius_S_Malema a revolutionary Happy Birthday. #HappyBirthdayCIC pic.twitter.com/lriYUI6HZI

— Economic Freedom Fighters (@EFFSouthAfrica) March 3, 2022
Here's the President of Ama2000, Uncle Vinny wishing the CIC @Julius_S_Malema a Happy Birthday on this special day. #HappyBirthdayCIC pic.twitter.com/d1JnOoIdvM

— Economic Freedom Fighters (@EFFSouthAfrica) March 3, 2022
EFF MP @ndiyagodola singing our CIC @Julius_S_Malema a Happy Birthday on this, his special day.

We are grateful for you President and we celebrate your existence on earth. #HappyBirthdayCIC pic.twitter.com/cKrLmhrAt3

— Economic Freedom Fighters (@EFFSouthAfrica) March 3, 2022