Inside Gomora Actress Pretty's Traditional Wedding – Pictures & Videos
Inside Gomora Actress Pretty's Traditional Wedding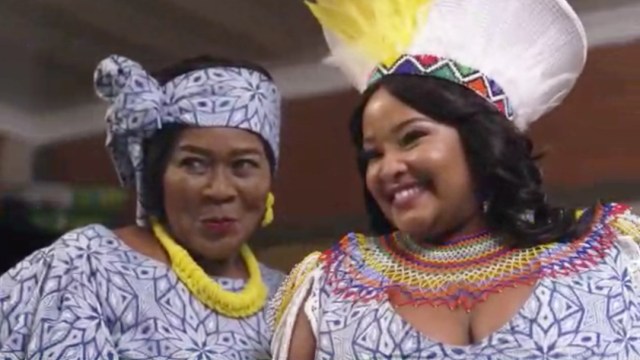 Pretty surprised many of Gomora's viewers after showing his boyfriend and baby daddy Sbonga the door. We all thought it was over, however, that quickly changed as he went all out to win her back, putting together an intimate dinner and proposing to Mam Sonto's daughter and after some hesitation, she said yes! Fast-forward a week later, the couple is getting married at Mam Sonto's tavern. Mzansi Magic shared a snippet of the wedding through social media.

#Gomora #gomoramzansi #GomoraMzanzi I thought she would say no you can never confirm pretty pic.twitter.com/z4VoRwoyBl

— JabulaniMacdonald⚡ (@Jabu_Macdonald) March 19, 2021
After all "though the doer of the kind deed forgets, the recipient always remembers"🙌🏼

— Shawty in heels. (@Joy14805816) March 16, 2021
The other day she was ready to trap ma-zet now she dumps the man for nothing… Mjolo will kill you bra yaka #gomoramzansi #WeGrewApart pic.twitter.com/Bvl81diQBK

— Kelebogile Malela (@LeboKillerMalel) March 17, 2021
I hope Tshiamo realises one day that Pretty had to do this. For herself. Parents' happiness matter too. It wasn't going to help if they stayed together miserable. Also, Pretty's pain is valid. Sbonga triggered her. #gomoramzansi #gomora

— 🤍 (@Rea_Kay) March 17, 2021
I am confused l watched #Gomora from day 1 until now when did sbonga cheat and with who ?#gomoramzansi #GomoraMzanzi #gomora pic.twitter.com/TDZQ1F787Q

— Kalashnikov31 (@Kalashnikov_31) March 17, 2021

The actor is best known for his lead role as Skroef, an eccentric who loves solving problems in the drama uSkroef noSexy. Mthembu has also appeared in Isithembiso as Detective Mfihleko, Generations as Detective James, Rhythm City, Scandal and the popular movie Baby Mamas. Sbonga on Gomora is his latest television role.
There is set to be a to of drama in the coming episodes. Gladys (Thembi Seete) could find out Thati's secret, that Langa is her husband's son before Melusi even finds out, well, that's according to the teasers. Gladys has always been insecure in her marriage because she's always feared that Melusi loves Thati more. Gladys and Thati will square off when she confronts Thati about her secret. Gladys will also push for Melusi to spend more time with Ntokozo as she's afraid that her son's relationship with his father will suffer. All will be revealed soon.