Inside DJ Black Coffee's trip to his rural home
Inside DJ Black Coffee's trip to his rural home
After a jam-packed year and festive season, DJ Black Coffee took some time out to visit his home in Mthatha, Eastern Cape. And it was a festive affair!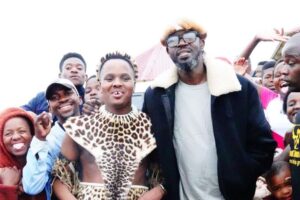 While Black Coffee was born in Durban, he grew up in Mthatha in the Eastern Cape.
Last weekend Black Coffee was in his hometown and he attended a festival where local maskandi artist Khuzani Mpungose performed.
Khuzani shared a video of a special moment when Black Coffee stood up to dance to his music on Instagram.
Taking to Twitter, the world-renowned DJ shared a snap of mom, looking regal in traditional attire.
Mama's boy 🤞🏿 pic.twitter.com/Htc56Pgw5x

— Black Coffee (@RealBlackCoffee) January 5, 2022
Despite the damaging effects of Covid-19 for people across the globe, Black Coffee ended the year on a high note after being nominated for a Grammy award and his song Inkodlo Kamashimane being featured in The Matrix Resurrections film starring Keanu Reeves.
Expressing his joy and pride at the achievement, Black Coffee said having his song feature in the popular blockbuster left him "humbled beyond belief".
"Seven years ago after losing my father I made a song dedicated to him. Humbled beyond belief to be wrapping up 2021 with this song. Inkodlo Kamashimane is featured in the new @TheMatrixMovie. RIP Mashimane#GodsVeryOwn."
7 years ago after losing my father I made a song dedicated to him. Humbled beyond belief to be wrapping up 2021 with this song, "Inkodlo Kamashimane," being featured in the new @TheMatrixMovie RIP Mashimane❤️#GodsVeryOwn pic.twitter.com/fFUtC5KBsy

— Black Coffee (@RealBlackCoffee) December 23, 2021