"Indoda Must Spoil Me… I'll Do Important Things With My Money" – Mihlali Ndamase Sends Message To Her Boyfriend
"Indoda Must Spoil Me… I'll Do Important Things With My Money" – Mihlali Ndamase Sends Message To Her Boyfriend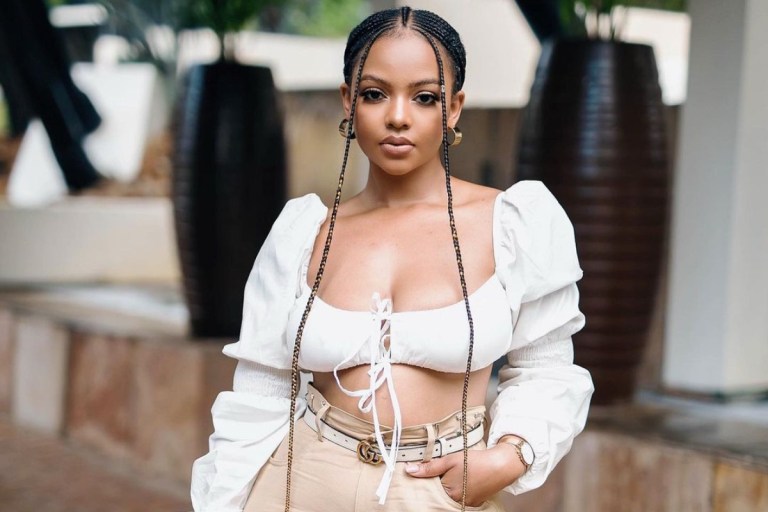 Youtuber and content creator Mihlali Ndamase has taken to her Twitter account to send a strong warning to her mysterious man.
It all started when hip-hop musician Boity Thulo took to her Twitter account to disclose that even though she is financially independent, she will always expect her man to spoil her with the things she needs because she is going to use her money to build a mansion for her grandparents and take them on a month-long vacation.
Her comment triggered a lot of bad reactions like she expected but she got some people to back her view as well notable one is Mihlali Ndamase. Taking up Boity's tweet Mihlali sent a strong message to her man indicating he must spoil her cause she has something important to do with her money.
Her comment didn't go down well with many tweeps who took to her comment section to drag her.
See post below:
Totally agree, indoda must spoil me… I'll do important things with my money 😅🤞🏾

— Mihlali Ndamase (@mihlalii_n) February 9, 2021
Check reactions below:
Totally agree, indoda must spoil me… I'll do important things with my money 😅🤞🏾

— Mihlali Ndamase (@mihlalii_n) February 9, 2021
Totally agree, indoda must spoil me… I'll do important things with my money 😅🤞🏾

— Mihlali Ndamase (@mihlalii_n) February 9, 2021
Totally agree, indoda must spoil me… I'll do important things with my money 😅🤞🏾

— Mihlali Ndamase (@mihlalii_n) February 9, 2021
That line " I'll do important things with my money " is more like saying you gonna take care of your family while the guy has to look after you and failing his fam side with a fear of losing you. Sometimes u women are born greedy creatures!!🤦

— ThidoTekMatek (@TekThido) February 9, 2021