'I love it here': Nasty C soars on Times Square billboard [photos]
'I love it here': Nasty C soars on Times Square billboard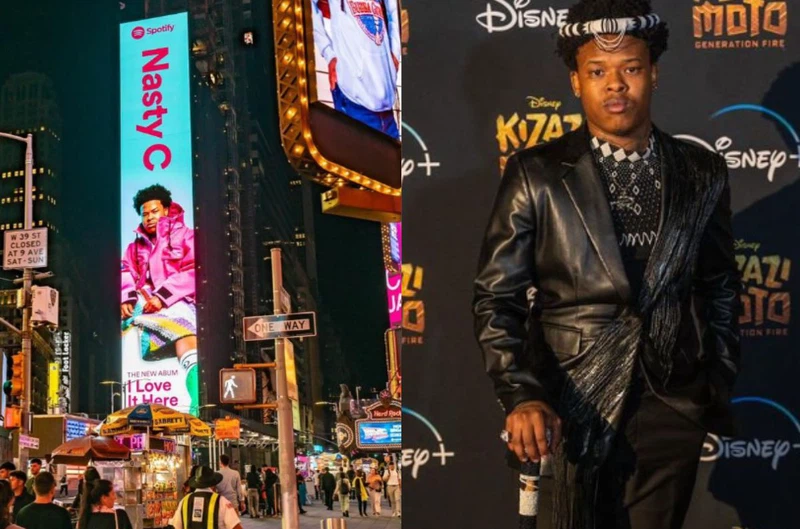 On Friday, 15 September South African-born international rapper Nasty C – real name Nsikayesizwe David Junior Ngcobo took to Instagram and had his feed buzzing with his fans congratulating and praising him after he posted a photo of himself on a Times Square billboard.
'BEST RAPPER IN THE WORLD': NETIZENS REACT TO NASTY C ON TIMES SQUARE BILLBOARD
It's been a big year for the SMA hitmaker, rapper Nasty C. Earlier this year, he announced that he and his long-term girlfriend Ntombizodwa Beatrice Sibanyoni, who is best known as Sammie Heaven on her social media were expecting their first baby. The adorable couple kept their pregnancy a secret until their bouncing baby boy whom they named Oliver was born.
In another instance, Nasty C also took time from his schedule to give rapper Cassper Nyovest's Ivyson Army Tour Mixtape a nod. And now, both rappers are currently touring Africa together in what they call the African Throne tour. And on 15 September, Nasty C decided to release his latest album titled I Love It Here. And, it seems the album is doing quite well as the Crazy Crazy hitmaker appeared on a Times Square billboard recently.
The popular rapper had his fans applauding him after seeing his latest announcement. On Friday, the Said hitmaker rushed to his Instagram feed and showed off that his new album landed him on the Times Square billboard in the United States.
"I LOVE IT HERE 🗽," he captioned the post.
TAKE A LOOK AT SOME REACTIONS FROM FANS BELOW…
"I don't care what y'all saying, he is the best rapper in the world🐐🔥," @theboy.rona1d said.
"This one's for Oliver!!!!🔥😤" @sphe_sihle79 reacted.
"Broski u deserve flowers man 👁️♥️📍," @its_ur_boi_ngizimann wrote.
"This is sweet, I'm happy to see us at New York city 🌆. Congratulations man Zulu man," @fabu.lous5005 replied.
"031 and I've gotta represent. Congratulations on your latest classic release my guy. ❤️🔥💯🇿🇦🇿🇦🇿🇦🇿🇦🇿🇦💐💐💐💪🏿💪🏿💪🏿💪🏿💪🏿💪🏿👌🏿👌🏿👌🏿👍🏿👍🏿👍🏿👍🏿👍🏿 The Streets been starving but now we feast!!!!!!!!!!!!!!" @tshepowasasco reacted.
"The most hit songs I love in this album, to be honest is Kill The Noise, Prosper In Peace, Endless … bro here u done something unforgettable 🔥🔥🔥," @devstshego commented.