I BLEW IT: Pretoria man explains how he blew R1.4 million on mangoshas
I BLEW IT: Pretoria man explains how he blew R1.4 million on mangoshas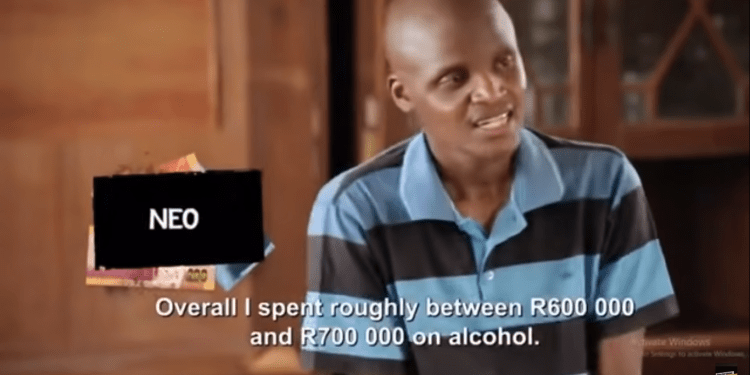 Neo, a man from Pretoria, explained how he quickly blew his Road Accident Fund (RAF) payment on alcohol and girls on an episode of I Blew It.
Neo was involved in an accident while he was on his way to work. "I wrote grade twelve and failed twice, and my cousin took me to work in his bakery. It was early in the morning, around 5 am on my way to work at Butterfield Bakery. A bus approached a traffic light but did not stop. We had the right of way but collided as the bus did not stop. I passed out and regained consciousness at Tshwane District Hospital. After a few days, I found out the taxi driver, and I was the only survivor. I dislocated my pelvis, but they could not operate it immediately. I waited for a specialist and was operated on after a week." Neo narrated.
Her mother, Charlotte, who was also interviewed, thought Neo would never walk in his life. "He was transferred to another hospital and found his leg suspended in the ICU ward. They told me he had a spinal injury. I was afraid he was not going to walk, and he would use the wheelchair," she said.
Neo was retrenched from the bakery as he was no longer able to work. He started working at a parking lot, helping motorists to park their vehicles.
His life changed after an RAF official advised him to visit their offices. "A lady from RAF told me to visit their offices once I leave the hospital. I went to see her and completed my RAF claim forms. I went home and engaged a lawyer who handled the case until 2015, and we settled out of court for R1,4 million. I went to the bank, and they told me the money would only be available at midnight," he said
"I called a friend of mine to go out for drinks and told him I would pay at midnight, and I showed him the bank notification. Before I went for drinking the next morning, I bought two shirts for R1,800, shoes for R1,500, a pair of jeans for R1400 and sneakers for R1,500. I used to spend R30,000 in a day," Neo added.
Neo's friend Goitsimang, who knew him before the money and fame, was surprised by his behaviour when he received the money.
"Neo lied a lot when he had money. He disappeared from our space and made new friends. He never made an effort with girls, and he settled their bills and took them home. They say he was drinking expensive Cognac, and he would buy seven bottles at a time, she said.
"He is related to my neighbours. So we met when he was visiting my neighbours. He is a happy person, and I have never seen him angry. Neo would greet me most time and ask where I was going. On one occasion, I told him I was going to the car wash, and he asked if he could clean my car for cash. Our friendship started from the day he cleaned my car. Neo came to me directly to tell me he was expecting RAF payout from the accident he was involved in. I told him to be careful as money that comes once is dangerous. I told him to think about how he was supposed to use the money to generate income before it comes," Goitsimang said.
Neo had weird ways of spending money. "I remember at Rhapsody's, and I had R30,000 on me. R10,000 in each pocket. We were sitting at the table having fun, and I took R10,000 in notes and put it in my mouth, and I spatted it on the floor and said, "We are now eating money," he recalled.
"They used to call me 'Igwe', which means god in Nigerian. When they said 'Igwe', it used to please me. I withdraw R20,000 for the night and put R10,000 in each of the pockets," Neo added.
Her mother tried with success to force him to build a house. "He went to Durban July and restaurants eating prawns. I was surprised by his change in taste for food. He was drinking expensive alcohol. On, someday he spent R21,000 on alcohol. Neo was full of lies. He told me he was renting a house. He had a birthday and invited me over. It was sad to realise he was renting a room at the back of a house. I used to call him to ask him to buy even an RDP house," she said.
'I had to call in the lawyer who helped him to get money to convince him to build a house. He gave me R170,000 to build the house,' said his mother.
Neo's best friend Tshepiso revealed Neo was a girls' magnet. "He never struggled with girls. He settled their bills and took them home. He became very arrogant; if you tied to advise him, he would say, "Who are you to advise me? You don't have money."
"When he was sober, he was stressed about the money he spent the previous night, and he would start drinking again without checking his bank statements. I took him to Sunny Park to enable him to check his bank statement and receive notifications to monitor his spending. He then befriended a bank teller he started dating. The bank teller would assist him without his ID, and he didn't have to queue either," Tshepiso said.
Neo finally came back home in 2017 when all his money was finished. His mother noticed he was bitter about the way he squandered her RAF payout. "When he came back home, he had no money at all. When I asked him, he said he spent the money because it was his. I could tell he was bitter." Charlotte said.
Reality trickled into his mind as his bank balance was low. "I started to realise in 2017 that my money was drying up, and I couldn't pay rent." I spent about R600,000 to R700,000 on alcohol. When I saw R20,000 left in November, I realised it would last me two more months. It was not enough as I was used to spending R17,000 in a day," Neo said.