How R20 and a gun changed my life – Actor Suffocate (Mduduzi Mabaso) opens up on touching life story
How R20 and a gun changed my life – Actor Suffocate (Mduduzi Mabaso) opens up on touching life story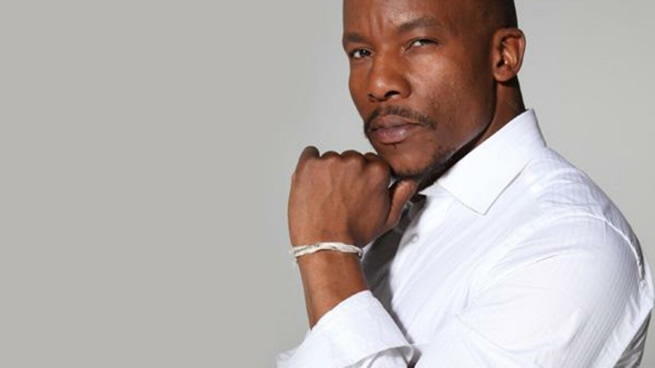 Mduduzi Mabaso once rocked up at renowned casting director Moonyeenn Lee's office with a pistol concealed inside the waistband. The awkward encounter with the late acting agent led to his biggest career turn in Oscar-nominated film Hotel Rwanda in 2004.
The 45-year-old actor narrates to me on the phone the story that sounds like a scene out of a British black comedy.
It's not something Mabaso is proud of or detailing to score cool points or be pompous, but he is painting a picture of how desperate he was at the time after waiting seven years without booking acting jobs.
Surprisingly, the dry spell came after Mabaso had landed his television breakout role in Yizo Yizo.
"I was so tired, that I went straight to the MLA [Moonyeenn Lee & Associates] offices. They were my agent and when I arrived, they told me I didn't make an appointment," Mabaso remembers.
"I tried explaining that I had been sitting at home for seven years and they had never sent me to an audition. I tried to tell them that I didn't have money and I borrowed R20 to come to the offices. I demanded to see Moonyeenn Lee and they denied me access."
But ever so persistent, Mabaso found a way to have his meeting with Lee.
"So I left the room and sneaked into her office. I Knocked on the window and waved at her. She welcomed me and I sat on this infamous sofa that you sank into," Mabaso says.
Mduduzi Mabaso
"It was a bad time in the township, ANC and Inkatha [IFP] were fighting. So as a man, you were armed and on that day I had my thing [gun] with me. As I sat on the sofa, this thing that I was armed with was very uncomfortable. So, I decide to standup, take out the gun, put it behind the sofa and sit on the armrest.
"Moonyeenn lost it. It was like 'what is this?' I explained to her that it was the life that I was living because I didn't have a job. My life changed on the spot and I won't say it was because of the gun. I think my life was supposed to change on that day."
Lee handed him the script of Hotel Rwanda that was led by American actor Don Cheadle. Unbeknown to Mabaso, he had already landed the role of Hutu Lieutenant.
When he arrived for the supposed audition, Mabaso was treated like royalty with a woman welcoming him with an opened umbrella, towel and referring to him as the character.
He was then informed that director Terry George was waiting for him in a room. When he got there, lo and behold Cheadle sitting on a chair with his legs resting on top of a table.
"Fortunately I had read the script in the taxi on my way there. Because of hunger and anger I managed to memories all my lines," Mabaso recounts.
"I did two lines and there was a part I grabbed him (Cheadle) by the shirt. I grabbed him with so much anger and he was like 'woooh you got the job'. From there my life changed."
From there, international roles in Catch a Fire and Blood Diamond opposite Leonardo DiCaprio followed. But it's his role as gangster-turned-club owner, Suffocate Ndlovu, when Rhythm City premiered in 2007 that started his journey as a leading man.
After 14 years, the e.tv soapie is set to conclude in July, with Mabaso as the only remaining original cast member.
"It changed my career for the better. I have gotten others gigs because of the character. Suffocate exposed me to producers and writers," Mabaso says.
The role has even won him the prestigious South African Film and Television Award.
"There were times I wanted to leave, but e.tv does not share their actors with other channels. I got other work and because of the clause, I couldn't," Mabaso says.
"As an actor, you want to grow and not be one dimensional. I did worry about being rusty and boxed."
Mabaso has already booked his next gig headlining the cast of Isibaya's replacement show DiepCity. The new daily drama will premiere on Mzansi Magic on Monday with Mabaso playing rogue security guard and low-level gangster Elliot.
Born in Alexandra township, Johannesburg, Mabaso fell in love with acting in primary school at age 12.
When the main actor in a school play fell sick, Mabaso was asked to pick up the baton. They ended up winning won a school competition they had entered and Mabaso never looked back.
For 26 years after leaving high school, he focused on his first love – theatre acting.
Together with Zakhele Mabasa and Meshack Mavuso, under the mentorship of theatre master Bongani Linda, Mabaso got to travel the globe doing plays such as Shaka Zulu as well as Divide and Rule starting in 1995.
That was the first time Mabaso realised that he can make it a career. The last born of three children, Mabaso never received much support from his family, except from his nephew Xolani.
Mabaso has been married to his wife Fatima for 12 years and they were set up while he was doing Zone 14 by renowned filmmaker Amanda Lane. Fatima is also Mabaso's manager. The couple have four children.
Fact file: Mduduzi Mabaso
Favourite food: Dombolo and chicken.
Favourite actor: Mduduzi Mabaso
Favourite musician: Oliver Mtukudzi
Favourite song: Linda by Sjava
Favourite emoji: Smile
Top three movies of my playlist:
Sekalli le Meokgo
Gladiator
300