How Prophet TB Joshua Predicted His Death
How Prophet TB Joshua Predicted His Death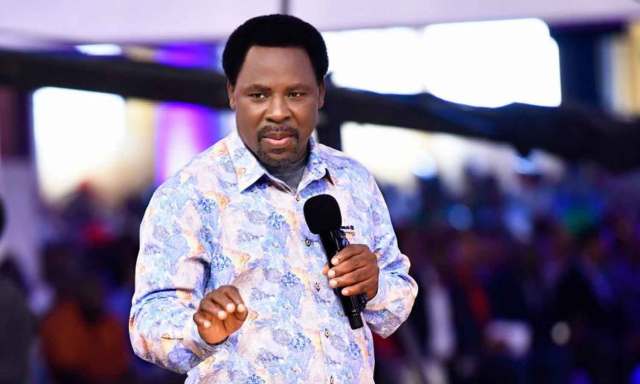 Late prominent Nigerian pastor Prophet T.B Joshua talked of his death a week before he died on Saturday.
On his Instagram page, the televangelist spoke about the fear that he would experience once he dies.
He noted that to beat the fear that comes with death he has to have a clear vision of God's power and His sovereignty.
"In the dark, we are bound to be frightened. The clearer sight we have of the power of Heaven and the sovereignty of God, the less we shall fear the cares of the world around us," TB Joshua wrote.
The founder of The Synagogue Church of All Nations (SCOAN) noted that it is God that has the power to fight and protect his children in the world.
"Then, we would be able to understand that the protecting hands of Heaven have been commissioned to fight for us, protect and help us," he said.
He further noted in every situation, God always has something to tell his people. According to him, God is always working even when humans think he is quiet.
The Nigeria preacher died on Saturday a few hours after he conducted a service at his Lagos-based church.
The Prophet who talked of death just a week before his actual death died a week before he turned 58 years old.
"God has taken His servant Prophet TB Joshua home – as it should be by divine will. His last moments on earth were spent in the service of God," Church Of All Nations and Emmanuel TV Family said on social media.
The church further claimed that Prophet Joshua was born ad lived for the world of God.
t was noted that TB Joshua left a legacy of service and sacrifice to God and his Kingdom.
According to the Ministry, the man of God left a powerful word before he breathed his last breath. They said the Prophet asked his followers to be watchful and prayerful.
"Here are Prophet TB Joshua's last words: "Watch and pray," the Church wrote on Instagram.
Even though the church revealed the day the preacher died, it did not reveal what caused his sudden death.
TB Joshua will be remembered for his wise advices to members of his congregants and philanthropic works. He will also be remembered for his controversial healings and miracles.
Prophet Joshua hit the headlines for several reasons. At some point, the late pastor was on the spot after he alleged that he had made a gay person turn straight.
He will also be remembered for claiming that he could cure HIV and AIDs through prayers.
Some of the videos uploaded on social media were sometimes considered as those that promoted violence.
One of the videos that were considered to contain violent acts is that of a woman repeatedly being hit violently with the claims that she was being treated for homose..xuality.