How Dr Malinga made his millions and how he quickly became dead broke: It's because of 1 person
How Dr Malinga made his millions and how he quickly became dead broke: It's because of 1 person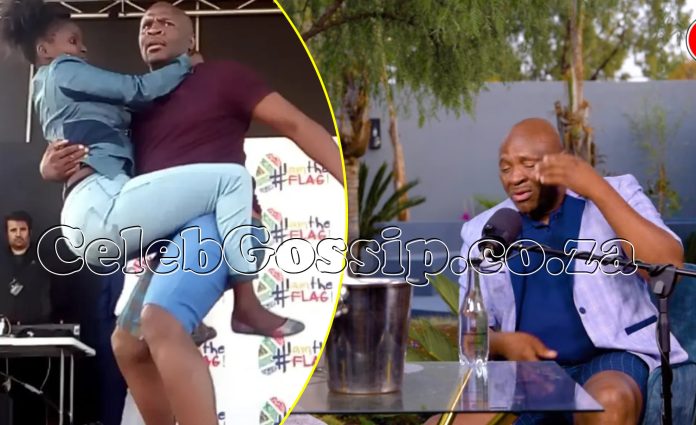 Celebrated vocalist Dr Malinga's fall from grace has been a social buzz after his recent visit to Podcast and Chill with MacG where he broke down in tears about his recent financial turmoil.
The musician opened up about the SARS bill which he failed to pay in a recent Podcast and Chill interview.
Malinga broke into the entertainment space by chance back in 2011 when he featured on Dj Choice's Cassanova hit and won the Record of the Year SAMAs award the next year.
He started making lots of cash in 2013 when his hits including Mahoota's club anthem Via Orlando made serious waves across Southern Africa. He made millions of Rands on his way to the top.
At the height of his career, he launched charity drives donating school shoes to the underprivileged, food parcels, sanitary towels, and at one point helped out a family whose home had burned down.
Because he didn't go far with his schooling, he also contributed to paying for the school and university fees of many students from his hometown.
This was after his career took off with the release of his first single Via Orlando.
But recently Dr Goodwill Malinga has opened up about his financial woes and owing the South African Revenue Services over R500,000. All hell broke loose when the South African Revenue Service stormed his home earlier in 2022 and ransacked him of all his property to settle his years-long debts.
This was the moment the public got a first look into the troubled entertainer's life.
He claims all the blame was to be put on just one person, his accountant who poorly advised him about investments and tax evasion.
"My accountant failed to advise me accordingly until it was too late and I ended up accumulating the R2.1 million owed to Sars," he told the Chillers.
Despite him claiming to have invested some of his millions in homes and estates that he has been selling in Pretoria, all his money streams ran dry during the Covid-19 surge that affected the worldwide economy.
In an interview on Podcast and Chill, Malinga said the SA Revenue Service (Sars) had hit with a R2m bill, which he failed to pay.
The taxman came to repossess his things in July, leaving him distressed and without support.
"I was calling people I worked with. I called many people, but they didn't come to my rescue. Every time I would call people and ask 'can you help' and they never did."
His comments led to an outpouring of love and assistance from people across the country. He revealed that things took a nose-dive when President Cyril Ramaphosa imposed a national lock down as a way of containing the deadly Covid-19 disease.
"In life, there are ups and down. But Covid-19 was the main reason for losing my belongings," he says.
He was already not doing great, but when the pandemic started, things got worse for Dr Malinga and his family.
"There were no gigs and no money coming in. I felt useless, like a used piece of chewing gum."
When he tried to apply for the artist relief fund, Dr Malinga says he did not receive a response.
"I did not even receive a food hamper. My wife was pregnant with Lingos and Legends. We did not have medical aid and we were scared to even go to public hospitals. I was scared of my kids' health," he says.
Luckily, his sister paid for the private hospital for his twins.
"Things became rough. I lost my furniture worth R500 000. SARS came and took my car and my furniture, right down to the fridge and microwave. I had nothing. I watched them auction everything off for R100 000," he says.
"I was there at the auction hoping someone would help to buy my stuff back. That didn't happen. I reached out to people for help, some of whom I had helped in the past and industry friends, but no one was there," he says.
Dr Malinga says he felt lonely during this time.
"I always prioritize people, but it is true that givers do not always receive."